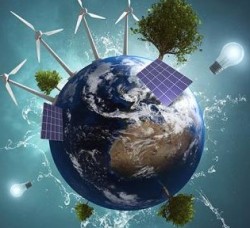 Today 11:00am - Rules governing the development of international carbon markets will be top of the agenda at international climate talks this week.

5 Jun 19 - Sustainability is now mainstream business in New Zealand, the Sustainable Business Council says.

22 May 19 - New Zealandís political elder statesman on climate change is warning of a potential gilets jeune-style backlash against the costs of climate action.

20 May 19 - New Zealand is leading a push to use nature to avert a climate catastrophe.

14 May 19 - United Nations Secretary-General Antonio Guterres says income taxes should be replaced with carbon taxes.

13 May 19 - Two major financial companies are issuing warnings to investors over climate change.

13 May 19 - United Nations Secretary-General Antonio Guterres is praising New Zealandís efforts on climate change.
---
7 May 19 - New Zealand is being asked to declare a climate emergency just as the world is again reminded of the precarious state of the planet.
11 Apr 19 - New Zealandís greenhouse gas emissions are growing again, following the global trend.
10 Apr 19 - New Zealand has a new Climate Change Ambassador.
4 Apr 19 - Hydrogen fuel could replace the Huntly coal and gas-fired power station to give New Zealand a totally renewable electricity generation system, the Helen Clark Foundation says in its first foray into...
13 Mar 19 - Atmospheric physicist Professor James Renwick is struggling with the idea that the world might really delay action on climate change to the point of disaster.
13 Mar 19 - This Fridayís strike by school students calling for action on climate change has the support of some of our wisest citizens. Wise Response Society secretary DUGALD MACTAVISH explains why.
8 Mar 19 - New Zealand's mayors have been asked whether they believe humans are causing the climate to change.
30 Jan 19 - The head of the Planning Institute says the Government needs to step up and show the way for communities to plan for the impacts of climate change.
3 Dec 18 - New Zealand is on a list of countries being called on to cut emissions as an example to the world.
28 Nov 18 - A report out today saying that global emissions are rising again because of economic growth should be the bomb needed to blast us out of our self-congratulatory complacency.
31 Oct 18 - A global failure to cut greenhouse gas emissions will see New Zealand farmers face demands for major production cuts, the worldís largest milk-producer is warning.
23 Oct 18 - Key companies and government officials are joining forces to prepare New Zealandís financial system for the low-carbon economy.
---