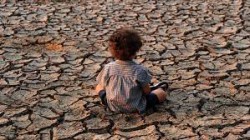 Tuesday - Save the Children is calling on the government to take urgent action on climate change following the release of a report that shows Kiwi kids could face up to five times as many heatwaves and four times as many droughts compared to older generations.

Tuesday - A scientific paper published by the Royal Society has estimated that removing a tonne of methane from the atmosphere could be worth as much as $US2700 a tonne.

Monday - A panel of 12 legal experts from around the world have released a proposed definition for a new international crime called "ecocide" covering "severe" and "widespread or long-term environmental damage" that would be prosecuted before the International Criminal Court in the Hague.

Monday - CLIMATE activists allied with Swedish teen campaigner Greta Thunberg were on Friday demonstrating in some 70 countries to demand global action ahead of a key summit in the United Kingdom

Friday - Researchers are developing artificial intelligence that could assess climate change tipping points. The deep learning algorithm could act as an early warning system against runaway climate change.

Thursday - The World Health Organisation (WHO) tightened its air quality guidelines on Wednesday for the first time since 2005, hoping to spur countries toward clean energy and prevent deaths and illness caused by air pollution.

21 Sep 21 - Pressure is building on world leaders to rapidly ratchet up efforts to fight global climate change, a topic expected to top the agenda at the United Nations General Assembly
---
20 Sep 21 - Last week, BloombergNEF's released estimates for its global benchmark that tracks the levelized cost of electricity, or LCOE, for utility-scale PV and onshore wind. The LCOE looks at the all-in cost...
20 Sep 21 - Fossil fuel companies are suing governments across the world for more than US$18bn after action against climate change has threatened their profits, according to research conducted by campaign group...
20 Sep 21 - Developed countries made almost no progress toward their goal of providing $100 billion a year to help poor countries tackle climate change, figures from the OECD showed on Friday.
17 Sep 21 - The pace of climate change has not been slowed by the global COVID-19 pandemic and the world remains behind in its battle to cut carbon emissions, according to the United Nations.
17 Sep 21 - A giant ozone hole has opened up over Antarctica this year. Already larger than the entire ice-covered continent, the ozone hole has surpassed the size of 75% of ozone holes measured since 1979 and...
17 Sep 21 - Climate change was a big theme in Time Magazine's 2021 list of "Most Influential People," with a handful of climate scientists and environmental advocates making the list along with celebrities like...
16 Sep 21 - None of the world's major economies -- including the entire G20 -- have a climate plan that meets their obligations under the 2015 Paris Agreement, according to an analysis published Wednesday,...
16 Sep 21 - James Hansen, a climate scientist who shook Washington when he told Congress 33 years ago that human emissions of greenhouse gases were cooking the planet, is now warning that he expects the rate of...
16 Sep 21 - "We, the undersigned, call on governments around the world to adopt and implement a Fossil Fuel Non-Proliferation Treaty, as a matter of urgency, to protect the lives and livelihoods of present and...
16 Sep 21 - Guido Montani, a professor of international political economy at the University of Pavia, argues the time has come for a "Constitution of the Earth."
15 Sep 21 - New Zealand is on a list of high methane emitting countries identified by Europe and the US as needing to make greater efforts to cut back emissions of the greenhouse gas.
15 Sep 21 - The number of extremely hot days every year when the temperature reaches 50C has doubled since the 1980s, a global BBC analysis has found.
---