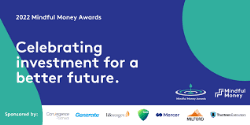 Friday - Media Release -Finalists Announced for Mindful Money Ethical and Impact Investment Awards: Celebrating leaders in the transition towards ethical investment

Tuesday - Media Release - The NZ Super Fund and Copenhagen Infrastructure Partners (CIP) have welcomed the Government's Budget 2022 commitment to develop a regulatory regime for offshore renewable energy.

Monday - Media Release - Organic solar panels have the potential to rapidly improve our solar capacity. These can be printed like newspaper – and so can be flexible, lightweight, much cheaper to make, and more versatile than current silicon solar technology.

19 May 22 - Media Release - Experts behind New Zealand's first government-funded space mission partnership, MethaneSAT, will come together to talk about the project in a free event for Techweek at the University of Auckland tomorrow 20 May).

18 May 22 - Media Release - Rapid bus lanes and cycling networks could be the future of transport in the Hamilton – Waikato area if a new business case is approved.

13 May 22 - Media Release - Brianna Fruean, a Samoan Pacific Climate Warrior and environmental champion has been announced as a recipient of the Global Citizen Prize: Citizen Award, citing her work leading grassroots community projects for climate justice, and her commitment to bring small island representation and young Pacific voices to the forefront of global climate conversations.

12 May 22 - Media Release - New Zealanders are feeling confident about the nation's transition to a low carbon economy, according to Mercury's survey of electricity consumers.
---
10 May 22 - Media Release - Researchers at the University of Canterbury (UC) are developing a smart new way of making green hydrogen from woody biomass and capturing carbon in the process.
9 May 22 - Media Release - Thanks to a $10 million dollar investment, all remaining coal boilers in New Zealand schools will be replaced with renewable woody biomass or electric heating sources by 2025 reducing...
5 May 22 - Media Release - Aucklanders overwhelmingly back a proposed Climate Action Targeted Rate (CATR) to help combat the climate crisis, according to consultation.
26 Apr 22 - Media Release - As the world burns and sea levels rise, global military spending increased to more than $2 trillion (US) in 2021, according to figures released by the Stockholm International Peace...
22 Apr 22 - Media Release - GNS Science and Geo40 have today announced a geothermal coalition which will see them establish a physical presence in Tokyo. The move to open an office in Japan demonstrates the...
21 Apr 22 - Media Release - The Motor Trade Association has some simple advice for Earth Day tomorrow: leave the car at home.
20 Apr 22 - Media Release - The Ministry for the Environment has issued an updated guide today for organisations to measure and report on emissions.
19 Apr 22 - Media Relsease - Drilling is about to get underway for one of the key options of the NZ Battery Project geotechnical feasibility investigations, in what has the potential to be the largest hydro...
14 Apr 22 - Media Release - New research by the Investor Group on Climate Change (IGCC), whose members hold more than AU$33 trillion in global AUM, highlights tough questions for new Australian gas projects.
7 Apr 22 - Media Release - Today is World Health Day, and eleven organisations representing doctors, nurses and other health professionals have written to Health Minister Andrew Little asking that, as part of...
5 Apr 22 - Media Release - Greenpeace has slammed the Government over news that the crown minerals regulator has allowed Greymouth Petroleum to piggyback off an existing mining permit to commence seismic...
1 Apr 22 - Media Release - The UN's secretary general António Guterres has asked New Zealand's Dr Rod Carr to join an elite world group to look into climate change issues.
---