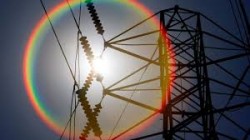 21 Oct 21 - US carbon exchanges will easily hit record volumes this year, in part because of recent record highs but also due to new entrants into the market.

20 Oct 21 - Scientists with the world's top climate organization made reducing meat consumption an official policy recommendation in 2019, echoing what environmentalists had urged for years: Eating less meat, in particular beef, reduces the large volume of emissions attributed to livestock.

19 Oct 21 - The cost of inaction over climate change could lead to the loss of 3 per cent of gross domestic product every year by 2030, ballooning to $69 trillion by the end of this century, Bank of America said in a report.

19 Oct 21 - A US Democrat's decision to oppose a key policy in Joe Biden's climate plan could lead to a carbon tax on emissions-intensive industries and threaten Australian exports.

18 Oct 21 - Dozens of Indigenous climate activists were arrested and removed from the U.S. Department of the Interior in Washington on Thursday after taking over a lobby of the department's Bureau of Indian Affairs for several hours.

11 Oct 21 - A new Pentagon plan calls for incorporating the realities of a hotter, harsher Earth at every level in the U.S. military, from making worsening climate extremes a mandatory part of strategic planning to training troops how to secure their own water supplies and treat heat injury.

7 Oct 21 - Emily Atkin, author of the Substack Heated, argues a decision by US president Joe Biden to allow a tar sands pipeline to go ahead could set off the largest civil disobedience campaign in decades.
---
30 Sep 21 - With the U.S. House of Representatives' Oversight Committee widening its inquiry into the oil industry's role in fostering doubt about the role of fossil fuels in causing climate change, Harvard...
28 Sep 21 - The carbon offset market may grow by as much as 50 times if companies are going to meet their 2050 net zero greenhouse gas emissions goals, according to the Bank of America.
24 Sep 21 - An increase in natural gas prices leads to price hikes across the US economy for home heating, fertilizer, chemicals—and wholesale electricity, because of the power sector's heavy reliance on...
24 Sep 21 - Indigenous nations are at the frontlines of climate change, but they're also leaders in how to adapt to changing weather conditions and transition to renewable energy.
23 Sep 21 - Climate change, which is responsible for magnifying this summer's deadly heat waves, hurricanes, wildfires and floods, is typically no laughing matter. But for one night, seven popular late-night...
23 Sep 21 - When the scientists aboard the International Space Station direct their thermal camera at Los Angeles, standing out from the sweltering red and orange blob is a crescent of cool, blueish white deep...
22 Sep 21 - United States President Joe Biden is expected to announce "good news" on addressing a shortfall in a $100bn global climate fund, a UN official said on Monday following a closed-door meeting on the...
30 Aug 21 - Nothing hits quite so good as a cone full of ice cream on a sweltering summer day. Alas, that single serving of classic vanilla may cool you off, but it has the exact opposite effect on the Earth....
25 Aug 21 - The United States is preparing to adopt a raft of new energy policies that will for the first time put the US – the world's second-worst polluter after China – on a path to meeting its pledge to cut...
23 Aug 21 - During a debate about the Democrats' new infrastructure bill in the Senate chamber on Tuesday night, Sen. Joni Ernst (R-Iowa) took the floor, positioned next to a sign stating "No Cow Tax."
23 Aug 21 - After finding a rusty gas canister near his midwest US home, Rick Karas checked online if it was worth anything. Incredibly, it turned out to be a coveted commodity in the battle against climate...
20 Aug 21 - A federal judge has reversed the U.S. government's approval of ConocoPhillips' planned $6 billion Willow oil development in Alaska, citing problems with its environmental analysis, according to court...
---