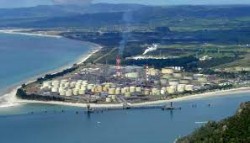 Friday - Media Release - The announcement that the Marsden refinery is to be closed will increase the barrier to easy achievement of low emissions transport, says the Bioenergy Association.

Friday - Media Release - Parents for Climate Aotearoa (P4CA) with a weary heart welcome the global study into climate anxiety in children and young people. The survey illustrates the depth of anxiety many young people are feeling about climate change.

Thursday - Media Release - Forest & Bird is calling out the Government for backtracking on crucial freshwater reforms and has written a letter to Environment Minister David Parker vowing to fight the changes.

Tuesday - Media Release - More than four in every five (81%) retail investors think climate related information is important to their investment decision making, with half saying companies have a responsibility to address climate change.

Monday - Media Release - COVID-19 may have stopped our planned in-person events, but there are loads of fun ways you can still celebrate Organic Week at home.

10 Sep 21 - Media Release - Covid-19 has meant that New Zealanders have had to sacrifice a great deal. They have missed funerals, weddings, births, and all manner of other special moments, National's Climate Change spokesperson Stuart Smith says.
9 Sep 21 - Media Release - Voting members of the International Union for Conservation of Nature (IUCN) World Conservation Congress--a major global gathering on nature that brings together 1,400 members from more than 170 countries--this week passed a motion calling for a moratorium on ocean mining.
---
9 Sep 21 - Media Release - Greater Wellington Regional Council has welcomed Tuesday's announcement by Minister of Transport Hon Michael Wood of the Government's transport funding priorities for the next three...
8 Sep 21 - Media Release - The Green Party welcomes the $6 billion being invested in public transport, walking and cycling through the National Land Transport Programme, as announced by the Minister of...
7 Sep 21 - Climate change will "wreak havoc" across the Australian economy if coal is not rapidly phased out, a senior UN official warned on Monday.
6 Sep 21 - Media Release - The world's first Congress to decolonize conservation has ended with a series of speakers calling for an end to "fortress conservation," and for full recognition of Indigenous...
6 Sep 21 - Media Release - COVID-19 lockdowns brought rapid and "unprecedented" improvements in air quality in some parts of the world - but not enough to halt climate change caused by global warming, UN...
27 Aug 21 - A startling 64% of Hamilton's carbon emissions come from transport, and Hamilton City Council has a plan to change that.
25 Aug 21 - Metlink is on track to becoming the lowest carbon emissions network in the country, as a new tranche of 10 electric vehicles (EVs) started rolling out on the road this week.
17 Aug 21 - Media Release - Business leaders are welcoming Aotearoa New Zealand's first undergraduate sustainability degree, saying the sector is crying out for more expertise as it faces new targets and...
13 Aug 21 - Media Release - Auckland Council's Environment and Climate Change Committee yesterday unanimously endorsed the C40 Cities Divest/Invest Declaration, reaffirming its policy of not investing in...
13 Aug 21 - The University of Auckland's Social Sciences Building has been awarded 93 points by the New Zealand Green Building Council achieving a 6 Green Star Design rating. This is the highest score awarded...
12 Aug 21 - Media Release - Genesis Energy has signalled its intent to develop solar as part its renewable generation programme.
12 Aug 21 - Media Release - Contact Energy is set to supply Genesis Energy with renewable electricity for 15 years from 2025, as part of a new, long-term power purchase agreement after key terms were signed...
---