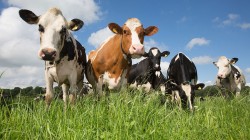 22 Dec 21 - A new scheme to tackle carbon emissions in the dairy sector has been launched in Northern Ireland by agriculture and environment minister Edwin Poots.

15 Dec 21 - British banking giant HSBC has published a plan to stop financing thermal coal activities but it is being criticised by environmentalists for not going far enough.

10 Dec 21 - How a blind spot in the Kyoto Protocol helped create the biomass industry.

9 Dec 21 - Activists are increasingly suing governments and companies to take action against climate change – and winning. Could this be a turning point?

8 Dec 21 - The UK government could intervene in the carbon market to reduce the costs big polluters have to pay for emissions permits, according to The Times.

7 Dec 21 - Some will plant a modest fruit tree in their small back garden while those with more space might plump for a sapling that will, hopefully, grow into a mighty oak.

3 Dec 21 - SCOTLAND'S FARMERS have been urged to be cautious of selling off their carbon credits – because they may be needed to offset their own emissions in the future
---
1 Nov 21 - Britain is naming a thinning Antarctic ice mass the Glasgow Glacier, to symbolize the vast implications for the world of a climate conference that starts Sunday in the Scottish city.
14 Oct 21 - Hundreds of people could die in floods in the UK, the Environment Agency has warned in a hard-hitting report that says the country is not ready for the impact of climate change.
21 Sep 21 - As far as the environment goes, carbon dioxide is probably public enemy number one. This makes it all the more ironic that the UK is currently suffering from a shortage of the gas, which experts warn...
15 Sep 21 - Project to reverse Victorian-era reclamation creates rich, marshy land that can lock in carbon.
14 Sep 21 - Over four-fifths of the English population say they enjoy a full English breakfast. But when food production accounts for a quarter of global greenhouse gas emissions, and 11% of UK emissions come...
13 Sep 21 - Up to 660,000 jobs could be at risk if the UK fails to reach its net-zero target as quickly as other nations, the Trade Union Congress (TUC) has warned.
2 Sep 21 - Glasgow, the host city of the crucial Cop26 UN climate summit in November, has experienced its hottest summer on record, the Met Office has said.
23 Aug 21 - Queen Elizabeth II's lawyers have secretly negotiated with Scottish ministers to change a draft law about reducing carbon emissions, ensuring that her private land is made exempt from new regulations.
11 Aug 21 - The latest IPCC climate report offers a "nugget of hope" but architects and designers must "make changes to the way they design" to help avert catastrophic climate change, according to Architects...
4 Aug 21 - Perched atop the United Kingdom, ten miles north of mainland Scotland, the Orkney Islands are a wild place. Encircled by roiling waters — the North Sea on one side, the Atlantic Ocean on the other —...
22 Jul 21 - A group of UK architects, developers and contractors have called for compulsory whole-life carbon assessments of buildings in a bid to tackle "hidden" emissions caused by construction supply chains.
19 Jul 21 - Climate change is driving a large increase in intense, slow-moving storms, a new study by Newcastle University and the Met Office has found.
---