Editorial comment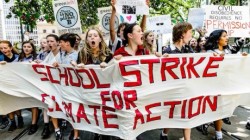 26 Jan 21 - Welcome to 2021 – the year in which we will get our first hard look at the size of the job in front of us.

14 Dec 20 - Believe it or not, a 54 per cent rise in the price of NZUs this year does not make 2020 the year of the biggest gains.

28 Sep 20 - Due to bereavement, Carbon News will be publishing only market updates for the next few days. We are sorry for any inconvenience this may cause readers, and thank you for the messages of sympathy over the loss of a highly valued colleague and loved husband and father.

21 Sep 20 - By ADELIA HALLETT | Today, Carbon News marks the passing of someone who has been at the heart of the publication since it started in 2008.

12 May 20 -

4 Sep 19 - By ADELIA HALLETT | The Montreal Protocol – an international treaty to save the protective ozone layer that covers the Earth – has worked.
Your IP address: 3.236.50.201