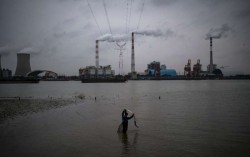 26 Nov 21 - China's CO2 emissions fell in the third quarter for the first time since the country reopened from COVID-19 lockdowns, research published Thursday showed, in what experts said could mark a carbon "turning point" for the country.

23 Nov 21 - China, the world's top carbon emitter, has for the first time published plans broadly outlining how it might achieve net-zero carbon emissions by 2060, and a peak of emissions before 2030 — promises it made in 2019.

18 Nov 21 - The EU's climate chief told CNBC that he "wouldn't be too critical of China" when it comes to assessing negotiations at the COP26 climate change summit in Glasgow, Scotland.
22 Oct 21 - Soaring sales of electric vehicles (EVs) in China are driving the global trend away from combustion engines, the latest figures show.

13 Oct 21 - China's energy crisis is a wild card in the fraught efforts to secure a meaningful deal at the UN climate summit in Glasgow.
11 Oct 21 - China is planning to set up and improve the standards of carbon peak and neutrality, according to an official outline published last week.

28 Sep 21 - A new study has found that up to 60% of China's development projects pose a threat to indigenous communities and the environment.
---
23 Sep 21 - China began enforcing the Kigali Amendment to the Montreal Protocol last week—and the climate implications are huge
23 Sep 21 - Chinese President Xi Jinping has said that China would no longer fund the construction of new coal-fired power projects overseas, surprising the world on climate for the second straight year at the...
17 Sep 21 - The timing of the new defence deal between the US, UK and Australia has dismayed climate experts, who fear it could have a negative effect on hopes of a deal with China on greenhouse gas emissions...
30 Aug 21 - China is aiming to be carbon neutral by 2060, and for its carbon emissions to peak by 2030. But its initial efforts have been undermined regionally, partly by provinces continuing to launch...
27 Aug 21 - China's environmental authority vowed on Thursday to promote the capability of carbon sinks in the ocean as a key part of the country's efforts to confront climate change and fulfill its goals to...
24 Aug 21 - The price of emissions credits in China's carbon trading market reached a record low on Aug. 20, the latest sign that the market's structural flaws are preventing it from working as an effective...
16 Aug 21 - Even as trading on China's national carbon market dwindled away in its first month to next to nothing, one sign of life emerged this week in the form of an unusual cross-border deal for a voluntary...
28 Jul 21 - China didn't finance any coal projects via its Belt and Road Initiative in the first half, the first time that's happened since the plan was launched in 2013, the International Institute of Green...
23 Jul 21 - Last week, China announced the launch of its national carbon emissions trading market. How does it work?
19 Jul 21 - China's national carbon market, the largest emissions trading system in the world, made its debut on Friday with a turnover of 210 million yuan for carbon dioxide emissions on the first day
15 Jul 21 - China is set to launch its carbon emissions trading scheme this month.
14 Jul 21 - As unprecedented heatwaves sweep across large parts of the Northern Hemisphere, China is telling its people to brace for another summer of dangerous floods and droughts.
---