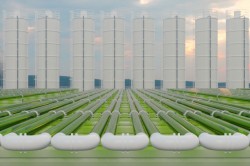 Today 10:30am - The US government is investing in machines that suck giant amounts of carbon dioxide out of the air in the hopes of reducing damage from climate change.

Friday - Every year, California dairy farms emit hundreds of thousands of tons of the potent greenhouse gas methane, which gets released when livestock operations pool manure in open-air lagoons.

Wednesday - A new survey reveals what private sector US organisations are currently spending on measuring and managing key climate change data and disclosure activities

16 May 22 - California's carbon market was supposed to be a model for the US, harnessing the power of capitalism to fight climate change in the world's fifth-biggest economy.

9 May 22 - In November 2018, the Green New Deal became a rallying cry for climate activists when members of the Sunrise Movement occupied House Speaker Nancy Pelosi's office and adopted the slogan as their unifying message.

6 May 22 - The annual general meetings of banking giants Barclays and Standard Chartered were disrupted by climate activists calling for heightened climate targets, with shareholders failing to align with current efforts from the organisations to meet net-zero emissions.

5 May 22 - Renewable electricity provided just shy of 100% of California's electricity demand on Saturday, a record-breaker, officials said, much of it from large amounts of solar power now produced along Interstate 10, an hour east of the Coachella Valley.
---
5 May 22 - Sen. Joe Manchin's bipartisan energy gang is trying to breathe life into a carbon border adjustment, but it is still struggling with the same political problems that have dogged past efforts to slap...
4 May 22 - The bombshell draft opinion signaling that the Supreme Court is about to overturn Roe v. Wade has implications that reach far beyond abortion access and could affect environmental law and climate...
2 May 22 - The US Postal Service is facing lawsuits from 16 states and several environmental groups challenging its decision to buy tens of thousands of gasoline-powered delivery vehicles instead of electric...
28 Apr 22 - The Biden administration is scrapping old-fashioned incandescent light bulbs, speeding an ongoing trend toward more efficient lighting that officials say will save households, schools, and businesses...
26 Apr 22 - The man who died after setting himself on fire outside the Supreme Court building on Friday sacrificed his life to protest climate change, according to friends posting on social media.
26 Apr 22 - President Joe Biden's ambitions to finally put the U.S. on the path to confront climate change are crashing into an election-year scramble to lower gas prices and demonstrate tangible economic...
22 Apr 22 - Giant global asset managers are still dumping tens of billions of dollars into new coal projects and hundreds of billions of dollars into major oil and gas companies.
22 Apr 22 - A nonprofit in Florida has a unique, eco-friendly way to restore coral reefs while simultaneously providing an eternal resting place to those whose final wish is to use their remains to benefit...
20 Apr 22 - Nonprofit Good Energy has published a resource guide to assist the TV and film industries in their coverage of climate change in projects.
19 Apr 22 - In 1989, just as leaders around the world were starting to think seriously about tackling global warming, the National Association of Manufacturers assembled a group of corporations — utilities, oil...
19 Apr 22 - The US approach to incentivising electric vehicle adoption may actually increase emissions in the long run, a new study finds — because the wealthy people who are among the only ones able to take...
14 Apr 22 - The job market in Indian Country is tough. Edmond Salt knows that as well as anybody.
---