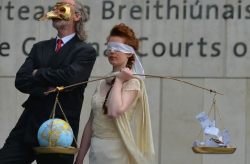 Thursday - Activists are increasingly suing governments and companies to take action against climate change – and winning. Could this be a turning point?

Thursday - Once again, a German minister is planning to revolutionize his country's economy in the face of crisis.

Thursday - Africa has been trying for years to get its special needs and circumstances officially recognised in UN climate talks, without success. The bloc left Glasgow last month disenchanted once again.

Thursday - The notion seemed straightforward: A massive swamp in the Congo Basin relatively unknown to most of the world, apart from a few human communities and a bewildering array of wildlife, could be the ideal spot for a carbon-rich soil known as peat.

Thursday - As all the environment correspondents are sick with COVID, reporter Jonathan Pie gets sent to the UN Climate Conference in Glasgow (aka COP26) despite knowing very little about the climate crisis. But he reckons he can wing it.

Thursday - Because plants take up carbon dioxide from the atmosphere and convert it into food, forests and other similar ecosystems are considered to be some of the planet's most important carbon sinks.

Thursday - Media Release - Two community led climate change adaptation projects have received funds from Toi Moana Bay of Plenty Regional Council this week to explore the future impact on their community and begin planning.
---
Wednesday - The UK government could intervene in the carbon market to reduce the costs big polluters have to pay for emissions permits, according to The Times.
Wednesday - The Benchmark European carbon price hit a record high yesterday, climbing to 85 euros a tonne for the first time since the European Union's carbon market launched in 2005.
Wednesday - From punishing heat in North America to record-breaking floods in Europe and Asia, this year's weather showed us what it looks like to live in a world that has warmed by 1.1 degrees Celsius over the...
Wednesday - Every time new climate research is published, news headlines are posted or tweets are shared, a giant steel box perched on a granite plain in the Australian state of Tasmania will be recording it all.
Wednesday - In early November, as politicians promised more climate action in their opening speeches at the United Nations climate talks in Glasgow, Guillermo Fernandez started a hunger strike in Switzerland's...
Wednesday - The disparity in greenhouse gas emissions between rich and poor countries — and rich and poor people within countries — is just as extreme as economic inequality, a new report finds.
Tuesday - Carbon emissions trading is poised to go global, and billions of dollars — maybe even trillions — could be at stake. That's thanks to last month's U.N. climate summit in Glasgow Scotland, which...
Tuesday - India has somehow emerged as the villain of last month's United Nations Climate Change Conference (COP26), blamed for resisting cuts to coal consumption even as toxic air envelops its capital, New...
Tuesday - Iowa-based Summit Carbon Solutions, an offshoot of Summit Agriculture Group, is behind the $4.5 billion Midwest Carbon Express project, with the goal of sending 12 millions tons of CO2 annually to...
Tuesday - On the Friday after Thanksgiving—a day the federal government notoriously reserves for dropping politically inexpedient information—activists were blindsided by a long-anticipated report from the...
Tuesday - In July 2018, an Italian-flagged oil supply ship called the Asso Ventotto that was crossing the Mediterranean Sea encountered a stalled rubber raft carrying 101 desperate migrants.
Tuesday - Some will plant a modest fruit tree in their small back garden while those with more space might plump for a sapling that will, hopefully, grow into a mighty oak.
---