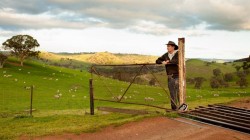 19 Nov 21 - Plans to pay farmers for the biodiversity benefits they deliver have progressed today with the Australian Government kicking off the legislation process.

20 Sep 21 - Climate Change minister James Shaw says it's great to see the EU and US committing to reducing methane emissions by 30% over the next nine years but isn't committing the government to signing New Zealand up just yet.

15 Jul 21 - Proposals in a recent biogas report, part-funded by the Energy Efficiency and Conservation Authority (EECA), risks locking in agricultural practices that harm the country's soils and waters and contribute to climate change, a coalition of zero waste and regenerative horticulture groups say.

6 Apr 21 - Research shows rising temperatures since 1960s have acted as a handbrake on agricultural yield of crops and livestock

30 Mar 21 - The average western consumer of coffee, chocolate, beef, palm oil and other commodities is responsible for the felling of four trees every year, many in wildlife-rich tropical forests, research has calculated.

4 Mar 21 - The alternative protein market in China is positioned to continue its rapid growth in the coming years, driven by the rise of flexitarianism in the country.

1 Mar 21 - Sheep and beef farms are sequestering much less carbon than the drystock sector claims, officials say.
---
25 Feb 21 - Agriculture's impact on the planet is massive and relentless. Roughly 40 per cent of the Earth's suitable land surface is used for cropland and grazing.
4 Feb 21 - The global food system is the biggest driver of destruction of the natural world, and a shift to predominantly plant-based diets is crucial in halting the damage, according to a report.
3 Feb 21 - Wairarapa farmer Mike Ashby feels the Government's 2025 deadline for bringing agriculture into the Emissions Trading Scheme hanging over his head like a Sword of Damocles.
9 Dec 20 - New Zealand dairy producers and food processors have a great opportunity to benefit from recent emission-reduction pledges by global brands, Synlait Milk said.
8 Dec 20 - Corporate pork and dairy producers are producing biogas to reduce methane emissions. But the actual climate benefits are unclear, and often overstated.
25 Nov 20 - Fonterra is optimistic it will find a way to accurately measure the amount of greenhouse gas emissions being produced by each dairy farm in time to meet a Government deadline of 2022.
24 Nov 20 - Once again, researchers have shown that it should be possible to feed the human race and leave enough space for the rest of creation, simply by going back to centuries-old mixed farming practices.
20 Nov 20 - Every year on November 19, the United Nations celebrates one of public health's greatest inventions – the toilet. Those who are fortunate enough to have access to one spend more than a year of their...
13 Nov 20 - A project trialling plants that thrive in more extreme whether, including sphagnum moss and bulrushes, could offer farmers a future.
11 Nov 20 - New Zealand farmers wanting to take advantage of the growing demand for plant protein should be thinking peas.
6 Nov 20 - Emissions from food production alone could sink the world's chances of meeting the Paris Agreement, scientists are warning in research with major implications for New Zealand.
5 Nov 20 - Farmers could cut the country's greenhouse gas emissions by two million tonnes a year by crossing beef and dairy cattle, scientists say.
---