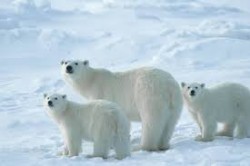 Friday - The Arctic Ocean has been warming since the onset of the 20th century, decades earlier than instrument observations would suggest, according to new research.

Friday - Climate change is changing how human beings live on the earth as floods, wildfires and extreme weather change the land and destroy property.

Friday - China's CO2 emissions fell in the third quarter for the first time since the country reopened from COVID-19 lockdowns, research published Thursday showed, in what experts said could mark a carbon "turning point" for the country.

Friday - In many ways, Norway is exceptionally green. About 95% of its electricity comes from hydropower, and nearly all the rest from other renewables such as thermal and wind.

Friday - A new report has highlighted the escalating threats and harsh penalties facing those calling for climate action in Australia.
Friday - It's time to talk about technologies seen as clean that may be causing our planet significant harm
Friday - Media Release - Fish & Game NZ is supporting calls for an urgent rethink on the rapid proliferation of exotic forests currently being supported by central government, and instead refocus on native plantings for better long-term environmental and social outcomes.
---
Friday - Media Release - Timaru's on-demand public transport hits 200,000 ride milestone Innovation has paid off in Timaru as the city's new on-demand public transport service goes from strength to strength.
Thursday - The Energy Charter Treaty is not widely known, yet it's feared the influence of this international agreement could be enough by itself to derail hopes of capping global heating to 1.5 degrees Celsius.
Thursday - Nations are poised to begin building an international carbon market, after finally adopting the relevant rules at the UN climate conference in Glasgow earlier this month.
Thursday - In the aftermath of the United Nations' annual climate conference earlier this month, scientists have a sobering message: The world still is not on track to meet its international climate goals.
Thursday - New research led by the University of Leeds has found that using carbon tax revenue to fund free green electricity and public transportation could significantly reduce households' greenhouse gas...
Thursday - The European Commission proposed a "social climate fund" to protect vulnerable people from changes brought by the energy transition. Still, it is not fit for purpose, according to researchers and...
Thursday - When relationships end it might be because the spark has disappeared, or maybe you just can't make time for one another.
Wednesday - The Federal Reserve is poised to increase its climate focus even as President Biden's nomination of Chairman Jerome Powell to a second term disappointed advocates of policies to tilt the economy away...
Wednesday - The European Central Bank (ECB) has warned that most commercial banks it supervises do not have concrete plans to start preparing for climate change.
Wednesday - From laying down the law on fossil fuel subsidies to promoting low-carbon supply chains, there is no shortage of ways in which the World Trade Organisation could be at the forefront of the global...
Wednesday - After decades of sowing doubt about climate change and its causes, the fossil fuel industry is now shifting to a new strategy: presenting itself as the source of solutions. This repositioning...
Wednesday - From Big Oil to Big Tech, major companies are promising to go net zero and wash away their carbon sins. But critics say the corporate climate pledges are a smokescreen.
---