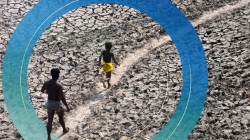 Wednesday - The savage heatwave that has scorched India and Pakistan in recent months was made more likely by climate change and is a harbinger of the region's future, scientists have said in a new study.

19 May 22 - For up to 12 days every month, Tran Nhu Anh Kiet, a supermarket manager in Vietnam's Ninh Thuan province, is forced to turn off his solar panels during the most lucrative peak sunshine hours.

16 May 22 - The effects of climate change will put 9.06 crore [90 million] Indians at risk of hunger in the next eight years, according to the Global Food Policy Report 2022 on 'Climate change and food systems' by the International Food Policy Research Institute (IFPRI).

16 May 22 - When Typhoon Haiyan struck the Philippines in 2013, it made a direct hit on the hometown of Yeb Saño's family. Saño,the country's chief climate negotiator at the time, had to attend the United Nations climate change conference in Poland only days after the storm passed. As he addressed the other delegates, his brother was helping collect the dead.

10 May 22 - Twelve-year-old Alamin's house rested on the bank of the Ilsha River in southern Bangladesh until last year, when the surging river eroded it and the family's farmland away, forcing them to flee to a slum in Keraniganj, close to the capital Dhaka

10 May 22 - A Singapore carbon exchange is teaming up with Germany's main bourse to launch futures trading for carbon offsets as early as this year to meet the growing demand from companies to hedge their risks from greenhouse gas emissions.
9 May 22 - The highest court in one of India's 28 states ruled last month that "Mother Nature" has the same legal status as a human being, which includes "all corresponding rights, duties and liabilities of a living person."
---
9 May 22 - After several delays, and in what Israel environmental protection minister Tamar Zandberg hailed as a "historic moment," the Ministerial Committee for Legislation on Sunday approved Israel's first...
4 May 22 - Temperatures in parts of India and Pakistan have reached record levels, putting the lives of millions at risk as the effects of the climate crisis are felt across the subcontinent
4 May 22 - Tokyo's Shibuya is famed for its Scramble Crossing, where crowds of people crisscross the intersection in a scene symbolizing urban Japan's congestion and anonymity. It may have added another...
3 May 22 - New Delhi, India – Construction worker Gujral Singh tears up as he voices his concerns about toiling in India's searing heat this summer.
3 May 22 - Forty-eight-year-old Abu el-Hassan Saleh spent a lot of his childhood in his Red Sea home village of Al-Quweh, exploring the lush strips of mangroves that covered, at the time, swathes of Egypt's...
2 May 22 - The world's first prototype floating city that adapts to sea level rise has just been unveiled at UN headquarters in New York.
29 Apr 22 - Heat waves are scorching India and Pakistan this week, breaking records as the region enters the hottest time of the year.
28 Apr 22 - A record-breaking heat wave in India exposing hundreds of millions to dangerous temperatures is damaging the country's wheat harvest, which experts say could hit countries seeking to make up imports...
26 Apr 22 - "People need to take urgent steps to reduce their reliance on fossil fuels and to adopt renewable sources of energy such as those that rely on the power of the Sun and the wind," the Dalai Lama said.
12 Apr 22 - Soaring carbon costs are adding up for companies in Korea as the government is set to tighten environmental rules.
6 Apr 22 - Indonesia is delaying the roll-out of its carbon tax to July from April, a move that analysts say will help its economic recovery amid surging energy prices and support businesses.
31 Mar 22 - Taiwan is planning a massive clean energy spending spree until 2030 to redouble climate efforts after government officials said they were likely to miss 2025 targets.
---