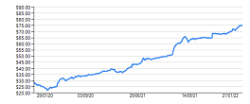 Friday - SPOT NZUs opened at $74.75 bid and $76.00 offered on CommTrade this morning, after last fixing at $75.25.
Friday - The parts of the world suitable for growing coffee, cashews and avocados will change dramatically as the world heats up, according to a new study.
Friday - Pacific Island nations facing the reality of climate change-induced land loss are using their diplomatic strength to ensure their sovereignty and economic future are protected, Jess Marinaccio writes from Tuvalu.

Friday - There is no crystal ball to tell ecologists how forests of the future will respond to the changing climate, but a University of Arizona-led team of researchers may have created the next best thing.
Friday - Your natural gas cooking stove may leak climate-warming methane even when it is turned off, warns a new Stanford University study.
Friday - Electric vehicles grabbed a much bigger share of the global car market last year as sales more than doubled despite turbulent economic conditions and a severe shortage of computer chips.

Friday - In a new episode of his podcast, Joe Rogan and Jordan Peterson talked at length about climate change in an exchange that makes Rogan's recent anti-vax content seem scientifically sound enough to win a Nobel Prize.
---
Friday - Media Release - A driverless tractor able to perform up to three tasks at once is on the cards for New Zealand orchards.
Thursday - Led by the deadly and costly Hurricane Ida and massive flooding in Europe, the world racked up $329 billion in economic losses linked to severe weather last year, and only 38% of that bill was...
Thursday - Researchers from the University of New South Wales (UNSW) predict that growth to 60TW of photovoltaics needed to rapidly reduce emissions to 'net zero' and limit global warming to...
Thursday - Chinese President Xi Jinping has stated the Asian superpower's low carbon desires must not get in the way of 'normal life'.
Thursday - US oil firms have been accused of using scare tactics after telling a federal court on Tuesday that lawsuits alleging fossil fuel companies lied about the climate crisis could threaten America's oil...
Thursday - Sometimes even a finger-length fish can make all the difference in an ecosystem. As many of the world's wild places confront a double-whammy of a warming climate and vanishing species, new research...
Thursday - With alternative coins flourishing and Central Banks designing their own digital currencies, there is a potential hard-backed currency which cannot be ignored: carbon. Using carbon to back a global...
Wednesday - The net-zero transition will cost $275 trillion globally by 2050 as low-emission activities are ramped up and high-emissions activities decrease, according to a new report from consultancy McKinsey &...
Wednesday - A move to reduce meat consumption could reduce greenhouse gas emissions from agriculture by 62% across the world's 54 richest countries and free up enough land to store 100 billion tonnes of carbon,...
Wednesday - Norway's scheme to reduce emissions from deforestation in Indonesia made only a tiny dent in meeting the nation's climate target – but the forest nation deserved to have been paid more for it, a...
Wednesday - The voluntary carbon markets (VCMs) are poised for explosive growth in 2022. At the conclusion of COP26 in Glasgow, 632 of the world's largest 2000 public companies by revenue had announced plans to...
Wednesday - A survey of oil and gas facilities in Texas and New Mexico revealed 30 so-called "super-emitters," which are leaking as much heat-trapping pollution as roughly half a million cars, according to a new...
---