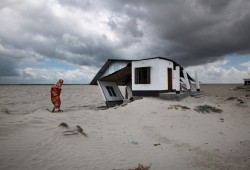 Thursday - Twelve years ago, at a United Nations climate summit in Copenhagen, rich nations made a significant pledge. They promised to channel US$100 billion a year to less wealthy nations by 2020, to help them adapt to climate change and mitigate further rises in temperature.

14 Oct 21 - Current plans to cut global carbon emissions will fall 60% short of their 2050 net zero target, the International Energy Agency has said, as it urged leaders to use the upcoming Cop26 climate conference to send an "unmistakable signal" with concrete policy plans.

12 Oct 21 - U.S. special climate envoy John Kerry announced Monday that 24 additional countries agreed to a voluntary pledge to cut emissions of methane, a potent greenhouse gas, by one-third by 2030.

12 Oct 21 - In the run up to COP26, the Guardian has compiled this useful summary of the key terminology that will be in play.

8 Oct 21 - New Zealand's climate change ambassador Kay Harrison told a webinar this morning that "the fight is on" to limit global warming to 1.5 degrees at the upcoming COP26 in Glasgow.

6 Oct 21 - One hundred people from around the world are to take part in a citizens' assembly to discuss the climate crisis over the next month, before presenting their findings at the UN Cop26 climate summit.
5 Oct 21 - Pope Francis and dozens of religious leaders on Monday signed a joint appeal to governments to commit to ambitious targets at the upcoming U.N. climate conference, while promising to do their own part to lead their faithful into more sustainable behavior.
---
1 Oct 21 - The National and ACT parties weren't the only ones, last week, criticising climate minister James Shaw's decision to travel to COP26 in November. Former Green Party co-leader, and current Greenpeace...
1 Oct 21 - With the jeers of Greta Thunberg ringing in their ears, climate ministers are holding final talks before a key UN conference in Glasgow.
30 Sep 21 - The ACT Party says New Zealand should push for an international carbon trading market, which includes the largest emitters the EU, USA, Russian, India and China, at November's COP26 talks.
27 Sep 21 - Last week both the National and ACT parties made it clear they didn't think climate change minister James Shaw should be going to the COP26 meeting in Glasgow in November. But whether Shaw is there...
9 Sep 21 - The New Zealand, Australian and UK governments are working together to ensure Pacific Island delegations can attend the COP26 meetings in Glasgow in November.
8 Sep 21 - Green groups say that the COP26 climate conference due to be held in Glasgow in November should be postponed.
8 Sep 21 - China, the world's largest carbon emitter, has made commitments to climate change and set ambitious targets to reach carbon neutrality by 2060. But, so far, details on how to get there have been...
10 Aug 21 - It's here, it's intensifying, and if the world doesn't act now, we're fucked. That in a nutshell is the message of the most comprehensive scientific report on climate change in years.
10 Aug 21 - The world's biggest emitters of greenhouse gases must produce clear plans to cut their carbon output drastically, the president of vital UN climate talks has urged, after scientists warned there was...
9 Aug 21 - The world is "dangerously close" to running out of time to stop a climate change catastrophe, the UK government's climate chief Alok Sharma has said.
6 Aug 21 - Boris Johnson says there'll be no downgrading of ambitions ahead of this year's COP26 climate conference. But with less than 90 days to go - and uncertainty still surrounding the event due to Covid -...
1 Apr 21 - Just as President Joe Biden unveils his $2 trillion infrastructure and climate plan and momentum surges on Wall Street for finance solutions, comes word that COP26 this November in Glasgow might be...
---