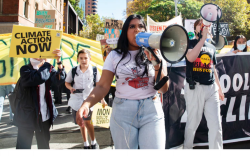 Friday - Despite Labor and the Coalition being conspicuously quiet about climate change during the campaign, it was in many ways the defining issue of this historic change of government.

Wednesday - Despite a federal election result that promises a new era of political support for the Australian renewable energy industry, a major report warns of a tough road ahead for a market still feeling the effects of supply-chain "long Covid."

Tuesday - Australia has a new Labor government and a significant climate-focused cross bench, and it might just mark the beginning of the end of an almost decade-long grip the fossil fuel industry has held over national climate change and energy policy.

Monday - Australians have voted overwhelmingly for stronger action on climate change, with stunning results across the country for both teal independents and the Greens delivering a harsh rebuke to the Morrison government's years of foot-dragging on emissions reduction.

20 May 22 - The rate of trees dying in the old-growth tropical forests of northern Australia each year has doubled since the 1980s, and researchers say climate change is probably to blame.

18 May 22 - A German green hydrogen technology company behind 10GW of electrolyser capacity installed globally is setting up shop in Perth, to catch the wave of Australia's emerging renewable hydrogen industry.

17 May 22 - Australia's carbon offset market is showing signs of splitting in two, analysts say, as buyers show they are willing to pay a premium for "higher integrity" offsets.
---
17 May 22 - As Australians head to the polls on 21 May, voters face a decision that could have significant consequences for the nation's efforts to cut emissions and transition its energy system.
11 May 22 - You'd think the government and opposition would be keen to focus on the number-one issue for voters this election campaign. Yet if 2019 was the climate change election, 2022 is shaping up to be the...
5 May 22 - The next federal government has been urged to review the carbon market as experts question the integrity of credits used by companies to balance their books on emissions.
4 May 22 - About one in 25 Australian homes are at high risk of becoming effectively uninsurable by 2030, according to a new Climate Council report based on analysis by a climate risk assessment group.
4 May 22 - Tasmania has become one of the first jurisdictions in the world to reduce their carbon dioxide (CO2) emissions and increase removals to become net carbon negative, according to new research from The...
27 Apr 22 - Australian prime minister Scott Morrison is facing divisions over climate change with Queensland senator Matt Canavan declaring net zero by 2050 is "dead".
26 Apr 22 - Last month former Australian carbon market watchdog Andrew MacIntosh blew the whistle on Australia's carbon offset market. He described the scheme as a "rort" with up to 80% of carbon offsets...
22 Apr 22 - Transport emissions rose more than 12 per cent in the last three months of 2021 as lockdown restrictions eased across the country, while Australia's greenhouse gas emissions decreased as renewable...
20 Apr 22 - If you thought Australia's infamous "climate wars" were staying out of the election campaign, think again.
12 Apr 22 - It is not just the Pacific region angered by Prime Minister Morrison's unchanged coal-loving stance. Next month, he will have to answer to the Australian electorate on this critical issue.
5 Apr 22 - In its latest budget, the federal government has promised hundreds of millions of dollars to expand Australia's green hydrogen capabilities.
4 Apr 22 - Thousands of kilometres away from the pomp and formality of Queensland's major court precinct, an historic hearing is set to take place on a tiny, remote island in the Torres Strait.
---