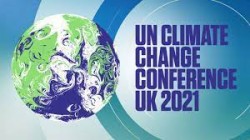 Monday - Last week both the National and ACT parties made it clear they didn't think climate change minister James Shaw should be going to the COP26 meeting in Glasgow in November. But whether Shaw is there in person, or via Zoom, what are the policies the opposition parties would like to see New Zealand champion at the most important climate change gathering of the year?

9 Sep 21 - The New Zealand, Australian and UK governments are working together to ensure Pacific Island delegations can attend the COP26 meetings in Glasgow in November.

8 Sep 21 - Green groups say that the COP26 climate conference due to be held in Glasgow in November should be postponed.

8 Sep 21 - China, the world's largest carbon emitter, has made commitments to climate change and set ambitious targets to reach carbon neutrality by 2060. But, so far, details on how to get there have been scarce.

10 Aug 21 - It's here, it's intensifying, and if the world doesn't act now, we're fucked. That in a nutshell is the message of the most comprehensive scientific report on climate change in years.

10 Aug 21 - The world's biggest emitters of greenhouse gases must produce clear plans to cut their carbon output drastically, the president of vital UN climate talks has urged, after scientists warned there was only a small chance of escaping the worst ravages of climate breakdown.

9 Aug 21 - The world is "dangerously close" to running out of time to stop a climate change catastrophe, the UK government's climate chief Alok Sharma has said.
---
6 Aug 21 - Boris Johnson says there'll be no downgrading of ambitions ahead of this year's COP26 climate conference. But with less than 90 days to go - and uncertainty still surrounding the event due to Covid -...
1 Apr 21 - Just as President Joe Biden unveils his $2 trillion infrastructure and climate plan and momentum surges on Wall Street for finance solutions, comes word that COP26 this November in Glasgow might be...
19 Mar 21 - Alok Sharma sets out UK's aims as host of climate talks, including new emissions targets for 2030.
17 Mar 21 - Climate diplomats in developing countries and civil society groups say slow vaccine rollouts in poorer nations threaten the inclusivity of negotiations at the Cop26 summit in November.
9 Feb 21 - Critical negotiations to prepare for November's Cop26 climate summit will need to take place virtually as the coronavirus pandemic is still not allowing in-person meetings and further delay is not an...
7 Dec 20 - The UK government has announced it will slash greenhouse gas emissions at least 68 per cent by 2030, compared to 1990 levels, in line with independent advice.
5 Nov 20 - This time next year, Scotland will be hosting a major UN climate change conference.
14 Oct 20 - Will delaying the COP26 UN climate negotiations impact international action to decarbonise? Would catch-up talks help? Could the talks collapse because countries stopped paying their dues?
3 Apr 20 - Green campaigners vowed to keep up the pressure on governments to make stringent new commitments on the climate crisis, as the COP26 climate summit was delayed until next year.
19 Mar 20 - Nicholas Stern, one of the most prominent global experts on the climate crisis, has urged UK leader Boris Johnson to resist calls to postpone vital UN climate talks this year, despite the coronavirus...
4 Mar 20 - Concern is growing among campaigners that vital UN climate talks in Glasgow later this year will be derailed by the coronavirus outbreak.
18 Feb 20 - UK Prime Minister Boris Johnson has appointed Alok Sharma to preside over the COP26 UN climate talks in November.
---