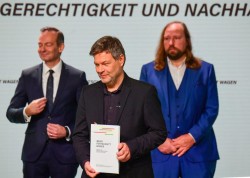 Thursday - Once again, a German minister is planning to revolutionize his country's economy in the face of crisis.

Wednesday - The Benchmark European carbon price hit a record high yesterday, climbing to 85 euros a tonne for the first time since the European Union's carbon market launched in 2005.

Wednesday - In early November, as politicians promised more climate action in their opening speeches at the United Nations climate talks in Glasgow, Guillermo Fernandez started a hunger strike in Switzerland's Federal Square, saying he wouldn't eat again until the Swiss Federal Assembly agreed to a climate science briefing.

Tuesday - In July 2018, an Italian-flagged oil supply ship called the Asso Ventotto that was crossing the Mediterranean Sea encountered a stalled rubber raft carrying 101 desperate migrants.

3 Dec 21 - Sofia and André Oliveira, siblings and teen climate activists, did not expect much from the United Nations climate conference in Glasgow.

2 Dec 21 - A senior European Commission official today suggested Brussels could set a more ambitious goal for reducing emissions next year.

26 Nov 21 - In many ways, Norway is exceptionally green. About 95% of its electricity comes from hydropower, and nearly all the rest from other renewables such as thermal and wind.
---
25 Nov 21 - The European Commission proposed a "social climate fund" to protect vulnerable people from changes brought by the energy transition. Still, it is not fit for purpose, according to researchers and...
24 Nov 21 - The European Central Bank (ECB) has warned that most commercial banks it supervises do not have concrete plans to start preparing for climate change.
23 Nov 21 - A convoy of around 100 tractors and farm vehicles rolled through Dublin city centre on Sunday, as Irish farmers protested against government climate change plans.
16 Nov 21 - EU CO2 prices hit a record Eur66/mt on Nov. 15, the first trading day after the UN Climate Change Conference and amid rising fuel prices driven by a cold weather forecast and gas supply fears...
10 Nov 21 - A young German climate activist and the heads of Greenpeace Germany have sued Volkswagen (VW) in a German court for "fuelling the climate crisis", accusing the carmaker of failing to do its part to...
8 Nov 21 - Irish farmers have been set a methane reduction target at least twice as ambitious as that being faced by their New Zealand counterparts, but Pat O'Toole, of the Irish Farmer, is optimistic they can...
4 Nov 21 - Up to 1.3 million cattle would have to be culled in Ireland to reach anticipated government targets for reducing greenhouse gases in the agriculture sector, a new report has concluded.
26 Oct 21 - Sheltered by snow-spattered mountains, the Stordalen mire is a flat, marshy plateau, pockmarked with muddy puddles. A whiff of rotten eggs wafts through the fresh air.
22 Oct 21 - The European Parliament yesterday passed a resolution calling for a binding international agreement limiting methane emissions to be agreed on at next month's COP26 in Glasgow.
22 Oct 21 - French oil company TotalEnergies knew at least 50 years ago about a link between burning fossil fuels and global warming, researchers have said.
21 Oct 21 - EUROPEANS want urgent action on climate change but remain committed meat-eaters and question policy proposals such as banning the sale of new petrol vehicles after 2030, according to a new poll from...
15 Oct 21 - A French court has ordered the state to honour its commitments on climate change, environmental organisations bringing the case said on Thursday.
---