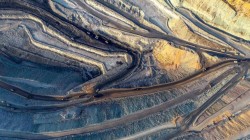 Thursday - A UN report says governments are currently planning to extract more than double the amount of fossil fuels by 2030 required to keep the 1.5C threshold alive.

Thursday - Fossil-fuel subsidies are one of the biggest financial barriers hampering the world's shift to renewable energy sources. Each year, governments around the world pour around half a trillion dollars into artificially lowering the price of fossil fuels — more than triple what renewables receive.

Wednesday - The director general of the World Trade Organisation has said that it should work together with other international bodies to develop a global price for carbon.

Wednesday - For its proponents, a global carbon market could significantly reduce the world's carbon emissions. But its critics say that giving polluters the option to pay for their emissions is not the answer to climate change.

Wednesday - More than 99.9% of peer-reviewed scientific papers agree that climate change is mainly caused by humans, according to a new survey of 88,125 climate-related studies.

Tuesday - Children across the world have inherited a problem that is not of their making. A new report from Save the Children - Born into The Climate Crisis: Why we must act now to secure children's rights - highlights the impact that the climate crisis is having on children's rights now, and for future generations.

Monday - Economist William Nordhouse, who won the 2018 Nobel Prize in economics for his work on climate change, argues a global carbon price of around US$100 per tonne is needed if the world is to successfully tackle climate change.
---
Monday - The climate crisis threatens a double blow for the Middle East, experts say, by destroying its oil income as the world shifts to renewables and by raising temperatures to unliveable extremes.
Monday - Literature has seen an uptick in "cli-fi," fiction about possible climate dystopias and utopias. But too much of that climate-change-related fiction lacks any kind of radical political imagination.
15 Oct 21 - Carbon emissions are rebounding strongly and are rising across the world's 20 richest nations, according to a new study.
15 Oct 21 - Some of the world's smallest countries could "disappear" without action at an upcoming UN summit to contain climate change, the secretary general of the Commonwealth has warned.
15 Oct 21 - As Shell's CEO Ben van Beurden spoke at a TED conference, he was interrupted by organisers, one of whom called him "one of the most evil people in the world."
13 Oct 21 - Wellington and Christchurch look like Venice, and Havana like Atlantis in a new interactive tool showing what some of the world's major cities will look if global warming is allowed to reach 3...
13 Oct 21 - Global cement and concrete makers on Tuesday laid out steps to cut carbon dioxide emissions 25% by 2030 and to reach zero net emissions by mid-century, relying on more carbon-free energy, new...
13 Oct 21 - CO2 is the main culprit in global warming, in part because it is virtually impossible to produce almost any product without releasing carbon dioxide. But what if products could be created from CO2...
13 Oct 21 - Is it better for the climate to go out and buy the latest, most fuel-efficient car, or keep driving the fairly decent car you already own for a little while longer? The answer is probably the latter,...
12 Oct 21 - Climate change could already be affecting 85% of the world's population, an analysis of tens of thousands of scientific studies found.
12 Oct 21 - A shortage of fish faeces is contributing to shifts in the ocean's carbon cycle of an equivalent magnitude to that of the impact of climate change on the ocean.
12 Oct 21 - A UN panel said it could not immediately rule on a complaint by Swedish climate activist Greta Thunberg and others that inaction on climate change constitutes a violation of children's rights.
---