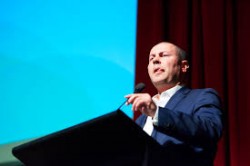 Friday - Treasurer Josh Frydenberg will prepare the way for Scott Morrison to take a target of net zero emissions by 2050 to Glasgow, when he warns on Friday capital inflow will be at risk if Australia is seen as a climate laggard.

22 Sep 21 - About 20% of carbon credits created under the federal Coalition's main climate change policy do not represent real cuts in carbon dioxide and are essentially "junk", new research suggests.

22 Sep 21 - A central Queensland couple has become the first to sell carbon credits under the state government's Land Restoration Fund (LRF).

16 Sep 21 - The extreme bush fires that blazed across southeastern Australia in late 2019 and early 2020 released 715 million tonnes of carbon dioxide into the air — more than double the emissions previously estimated from satellite data, according to an analysis1 published today in Nature.

14 Sep 21 - If Australia's allies were worried that the country might cause them problems at upcoming climate talks in Glasgow, the events of the past week should leave little doubt in their minds. It will.

10 Sep 21 - With coal prices reaching all time highs, professor economics John Quiggan argues its time for the lucky country to commit to phasing out coal within the next decade.

9 Sep 21 - Green campaigners have criticised the UK government for apparently removing references to the temperature goals of the Paris climate agreement from a prospective trade deal with Australia.
---
26 Aug 21 - Australia's largest ethical super fund says the opportunity for investors to profit from 'green shorting' will grow as global leaders take greater action on climate change, which could act as a...
26 Aug 21 - Wildfires are getting so big, and wildfire seasons are lasting so long, that they're now impacting the earth's climate.
19 Aug 21 - The Conversation: The announcement by BHP, the world's second-largest mining company, that it will shift its oil and gas assets into a joint venture with Australian outfit Woodside is a clear...
18 Aug 21 - Former UN secretary-general Ban Ki-moon has declared Australia "out of step" with the world on tackling climate change, as international pressure grows on the federal government to do more to limit...
26 Jul 21 - The Conversation: After much anticipation, the World Heritage Committee on Friday decided against listing the Great Barrier Reef as "in danger".
23 Jul 21 - New research confirms Australia's offshore wind resources offer vast potential both for electricity generation and new jobs
16 Jul 21 - Australia's ruling Coalition lashed out yesterday at the European Union's proposed carbon border tariff as a new climate plan from Brussels added to growing international pressure on Canberra to do...
5 Jul 21 - The top US diplomat in Australia has declared both countries need to set "more ambitious climate goals" and tackle the climate crisis "head on", as international pressure mounts on the Morrison...
2 Jul 21 - Australia has been ranked dead last for climate action in the latest Sustainable Development Report, which assesses the progress of countries towards achieving the Sustainable Development Goals.
29 Jun 21 - GLOBAL peatlands store more carbon than is naturally present in the atmosphere but are under pressure from drainage-based agriculture.
23 Jun 21 - Australia's government has lashed out after a United Nations report claimed it had not done enough to protect the Great Barrier Reef from climate change.
22 Jun 21 - THE CONVERSATION | Australia's top economists overwhelmingly back government measures to speed the transition to electric cars in order to meet emission reduction targets.
---