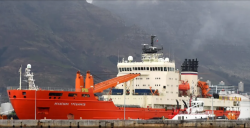 Friday - The Kremlin's mineral explorer says it has found a stunning 500 billion barrels of oil and gas below the Southern Ocean's climate-threatened waters. Tapping these mooted reserves would not only hamper global efforts to fight the climate crisis. Known for flouting major agreements, a defiant Russia in the Antarctic could destroy the decades-long protected status of Earth's last unmined frontier.

Friday - The rate of trees dying in the old-growth tropical forests of northern Australia each year has doubled since the 1980s, and researchers say climate change is probably to blame.

Friday - In Pennsylvania, Big Dog Energy LLC has installed 30 gas-fired generators at one of its gas well pads in Beccaria Township, using the electricity they produce in an ingenious, profitable, and possibly environmentally-damaging pursuit—mining the cryptocurrency known as bitcoin.

Friday - Wetlands across the globe are in danger of drowning from rising seas. But for decades, scientists held out hope that another aspect of climate change—rising carbon dioxide (CO2)—could trigger extra plant growth, enabling coastal wetlands to grow fast enough to outpace sea-level rise. That helpful side effect is disappearing, they discovered in a new study published May 18.

Friday - Every year, California dairy farms emit hundreds of thousands of tons of the potent greenhouse gas methane, which gets released when livestock operations pool manure in open-air lagoons.

Friday - It was a stunning, grisly act. A man, a climate activist and Buddhist, had set himself on fire on the steps of the US supreme court. He sat upright and didn't immediately scream despite the agony. Police officers desperately plunged nearby orange traffic cones into the court's marbled fountain and hurled water at him. It wasn't enough to save him.

Thursday - Since the turn of the century, global deaths attributable to air pollution have increased by more than half, a development that researchers say underscores the impact of pollution as the "largest existential threat to human and planetary health."
---
Thursday - Four key measures of climate change hit record highs last year, the United Nations said yesterday.
Thursday - The simple act of sprinkling rock dust—an abundant byproduct of mining—on farmland could capture 45% percent of the carbon dioxide required to help the UK meet its 2050 net-zero targets.
Thursday - For up to 12 days every month, Tran Nhu Anh Kiet, a supermarket manager in Vietnam's Ninh Thuan province, is forced to turn off his solar panels during the most lucrative peak sunshine hours.
Thursday - Without even a touch of the steering wheel, the electric car reverses autonomously into the recharging station.
Thursday - Dutch design office polystyrene (https://www.dezeen.com/tag/studio-mom/">Studio MOM has developed a bicycle helmet from biomaterials that, unlike
Wednesday - A German green hydrogen technology company behind 10GW of electrolyser capacity installed globally is setting up shop in Perth, to catch the wave of Australia's emerging renewable hydrogen industry.
Wednesday - A new survey reveals what private sector US organisations are currently spending on measuring and managing key climate change data and disclosure activities
Wednesday - Kiribati-born Tiibea Baure moved to Australia in 2008 as a nursing student with a plan for her extended family's future.
Wednesday - The EU's greenhouse gas emissions in the last quarter of 2021 were higher than any quarter since late 2018, scrubbing out the apparent gains made during the pandemic.
Wednesday - The European Parliament environment committee on Tuesday (17 May) agreed on reform of the European carbon market — including its expansion to buildings and transport.
Wednesday - The UK has moved a step closer to imposing a carbon tax on all imports to stop companies from outsourcing their CO2 emissions to foreign countries.
Tuesday - SPOT NZUs opened at $76.00 bid and $76.90 offered on CommTrade this morning, after last fixing at $76.60.
---