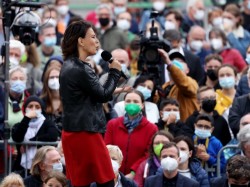 Today 11:15am - Climate and energy policies are expected to loom large in talks to determine which parties will form Germany's next government, following a much-anticipated federal election on 26 September.

Friday - The rapid, radical decarbonisation needed to save the planet will cost a lot. Taxing multinationals and the wealthy properly can help pay for it, argues Eva Joly, a member of the Independent Commission for International Corporate Tax Reform (ICRICT).

22 Sep 21 - German activists have filed a lawsuit against automakers BMW and Daimler for refusing to tighten carbon emissions targets, the first time German citizens have sued private companies for exacerbating climate change

21 Sep 21 - The Last Generation, a six-strong group, is camping out near the Reichstag determined to force a commitment to limit global heating.

20 Sep 21 - Never before in German history has climate policy played a role as big as it does in 2021. Even after one and a half years of a turbulent pandemic, credible climate policies remain the yardstick many voters plan to base their decision on.

15 Sep 21 - An all-vegan stadium. A field fertilized with seaweed. How the owner of the sport's most sustainable team is cultivating "a new kind of soccer fan."

13 Sep 21 - Dorte Mandrup Arkitekter has revealed the first photographs of the Ilulissat Icefjord Centre, a climate research and visitor centre on Greenland's rugged coastal landscape.
---
10 Sep 21 - Norway's electorate has an existential choice to face about its Oil Fund, associated with domestic prosperity but looming climate catastrophe.
8 Sep 21 - The European Union is leading the world in adopting limits on greenhouse-gas (GHG) emissions, notably via hefty carbon taxes. New policies always experience teething problems but an EU environmental...
7 Sep 21 - Reinsurance giant Swiss Re announced last week that it had signed the world's first long-term agreement to take carbon directly out of the air.
6 Sep 21 - Europe might be making progress on reducing emissions, but its largest utility company doesn't think officials are moving quickly enough. Reuters reports Enel has issued a study warning Europe could...
1 Sep 21 - Climate change has surfaced as a key issue for Norwegian voters in an upcoming parliamentary election that polls show could usher in more lawmakers who want to curtail oil and gas drilling.
31 Aug 21 - The European benchmark price for carbon allowances on Monday morning climbed above 60 euros per tonne for the first time since the European Union's carbon market launched in 2005.
31 Aug 21 - One solution to reduce the Netherlands' nitrogen compound emissions would be for the state to buy out farmers, according to experts.
25 Aug 21 - The heavy rainfall behind deadly flooding in Europe in July was made more likely by climate change, scientists say.
19 Aug 21 - Greenland has suspended all new oil and gas exploration, the country's government announced Thursday. Government officials said they believe the "price of oil extraction is too high," citing both...
18 Aug 21 - Denmark's Greensand carbon capture and storage (CCS) project has received major backing from a consortium of energy firms as the country makes strides towards its goal of reducing CO2 emissions by 70...
17 Aug 21 - Every Catholic parish "needs to set up a climate change committee and work with other Churches and other religions to address this critical issue of our time," the Association of Catholic Priests...
16 Aug 21 - As other businesses go green, food service remains an energy-intensive outlier. Europe's first solar-powered restaurant wants to change the recipe.
---