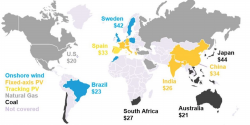 Monday - Last week, BloombergNEF's released estimates for its global benchmark that tracks the levelized cost of electricity, or LCOE, for utility-scale PV and onshore wind. The LCOE looks at the all-in cost to build, operate, and maintain power plants and then calculates the cost per megawatt-hour (MWh) of the energy produced based on all of those inputs.

Monday - Fossil fuel companies are suing governments across the world for more than US$18bn after action against climate change has threatened their profits, according to research conducted by campaign group Global Justice Now.

Monday - Developed countries made almost no progress toward their goal of providing $100 billion a year to help poor countries tackle climate change, figures from the OECD showed on Friday.

Friday - The pace of climate change has not been slowed by the global COVID-19 pandemic and the world remains behind in its battle to cut carbon emissions, according to the United Nations.

Friday - A giant ozone hole has opened up over Antarctica this year. Already larger than the entire ice-covered continent, the ozone hole has surpassed the size of 75% of ozone holes measured since 1979 and is still growing. Scientists believe climate change might be the cause.

Friday - Climate change was a big theme in Time Magazine's 2021 list of "Most Influential People," with a handful of climate scientists and environmental advocates making the list along with celebrities like Dolly Parton and Naomi Osaka.

Thursday - None of the world's major economies -- including the entire G20 -- have a climate plan that meets their obligations under the 2015 Paris Agreement, according to an analysis published Wednesday, despite scientists' warning that deep cuts to greenhouse gas emissions are needed now.
---
Thursday - James Hansen, a climate scientist who shook Washington when he told Congress 33 years ago that human emissions of greenhouse gases were cooking the planet, is now warning that he expects the rate of...
Thursday - "We, the undersigned, call on governments around the world to adopt and implement a Fossil Fuel Non-Proliferation Treaty, as a matter of urgency, to protect the lives and livelihoods of present and...
Thursday - Guido Montani, a professor of international political economy at the University of Pavia, argues the time has come for a "Constitution of the Earth."
Wednesday - New Zealand is on a list of high methane emitting countries identified by Europe and the US as needing to make greater efforts to cut back emissions of the greenhouse gas.
Wednesday - The number of extremely hot days every year when the temperature reaches 50C has doubled since the 1980s, a global BBC analysis has found.
Wednesday - Without immediate action to combat climate change, rising sea levels, water scarcity and declining crop productivity could force 216 million people to migrate within their own countries by 2050, the...
Wednesday - Farming subsidies worth around $500 billion doled out by governments every year must be repurposed, three UN agencies warned on Tuesday, citing the environmental and health damage they cause.
14 Sep 21 - At least 227 environmental defenders died last year as a direct result of their efforts to protect land, water, wildlife, and their own climate futures. That's the highest number ever recorded,...
14 Sep 21 - Traditionally, financial market actors and monetary authorities have considered environmental matters as outside of the scope of monetary policymakers. This stance may change now that central banks...
14 Sep 21 - Global emissions from the production of animal-based food are about double the amount of emissions from plant-based food production, according to a model by international researchers.
13 Sep 21 - Efforts to price carbon should be elevated to the international level, the head of the Organization for Economic Cooperation and Development told EU finance ministers on Saturday.
13 Sep 21 - Our planet has no time left for "incremental change" to avert climate disaster, says a leaked draft of the upcoming IPCC report. The draft is the third part of the IPCC assessment due to be published...
---