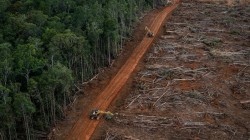 Wednesday - Norway's scheme to reduce emissions from deforestation in Indonesia made only a tiny dent in meeting the nation's climate target – but the forest nation deserved to have been paid more for it, a study has found.

Tuesday - The planet's warming climate could intensify 'rivers in the sky' over East Asia, scientists have warned.

20 Dec 21 - Indonesia should use its year-long Group of 20 presidency to lead member countries in the delivery of their climate commitments, youth activists have said.
17 Dec 21 - Japan is gearing up to develop a carbon credit market in the country, which it views as increasingly necessary for offsetting remaining greenhouse gas (GHG) emissions to achieve its 2050 carbon neutral goal.

14 Dec 21 - When Cyclone Yaas slammed into her home in southwest Bangladesh in May, destroying it and sweeping away in the floodwaters the small amount of cash she had saved, Amina Begum had few options.

7 Dec 21 - India has somehow emerged as the villain of last month's United Nations Climate Change Conference (COP26), blamed for resisting cuts to coal consumption even as toxic air envelops its capital, New Delhi. Shashi Tharoor argues that's unfair.

2 Dec 21 - To the surprise of Indigenous and local communities, a huge forest carbon conservation agreement was recently signed in the Malaysian state of Sabah on the island of Borneo.
---
18 Nov 21 - Members of Israel's foreign affairs defence committee have called for the government and security services to take the issue of climate change more seriously and to consider it a national security...
16 Nov 21 - The Delhi government has told the Supreme Court that it is ready to take steps like complete lockdown to control local emissions.
11 Nov 21 - Leaders in Sabah, a Malaysian state on the island of Borneo, have signed a profit-sharing deal to market carbon and other natural capital from more than 2 million hectares (4.9 million acres) of the...
27 Oct 21 - India lost $87 billion last year due to natural disasters such as tropical cyclones, floods and droughts, according to the World Meteorological Organisation.
26 Oct 21 - India is seeking payment for the losses caused by climate disasters, its environment ministry said while laying out the country's positions on critical issues that will be negotiated at the United...
19 Oct 21 - South Korea set a new goal on Monday for fighting climate change over the next decade, saying it will aim to cut its greenhouse gas emissions to 40% below 2018 levels by 2030.
15 Oct 21 - Ironing vendors are common across India. The irons are heated using charcoal, a fuel that contributes to air pollution. But Vinisha Umashankar, a 14-year-old girl from Tamil Nadu, has found a clean...
14 Oct 21 - The Japanese government will use international offsets as part of a plan to cut emissions 46% between 2013 and 2030, it said in a document to the UN.
8 Oct 21 - India's gross domestic product (GDP) could shrink by three per cent a year if climate change leads to rise in temperature by one degree Celsius, a new study has found.
6 Sep 21 - Scaly and with forked tongues, Komodo dragons are the largest lizards to still walk the Earth. But their days here may be numbered because of climate change a new report claims.
3 Sep 21 - With electricity becoming a scarce commodity, thousands of well-off Lebanese are rushing to alternative energy.
31 Aug 21 - The Singapore Exchange will ask all companies listed on its exchange to disclose climate-related information or explain why they cannot do so.
---