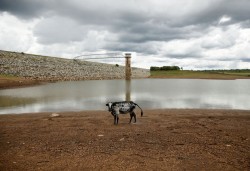 Today 11:15am - South Africa and Zimbabwe have both announced ambitious Nationally Determined Contributions in the lead-up to COP-26.

Monday - This week, as about 100 world leaders gather to attend the 76th session of the UN general assembly, a call for rich countries to urgently scale up assistance to help Africa address the twin challenges of climate catastrophe and the effects of Covid-19 pandemic is required.

31 Aug 21 - Zimbabwe's government says more coal mining will create jobs and give the country's power supply a much-needed boost, but critics warn the environmental cost is too high.

27 Aug 21 - Tropical forests may be local to the tropics, yet they all have global benefits. In addition to serving as refuges of the planetís stunning, if shrinking, biodiversity, these forests store large amounts of carbon, which helps offset our emissions and mitigate climate change.

20 Aug 21 - Kenya is witnessing a spike in both infectious and non-communicable diseases as the climate crisis escalates in the country, experts said at a virtual forum in Nairobi.

22 Jul 21 - Madagascar's famine is the first in modern history to be solely caused by global warming, according to Time Magazine.

25 Jun 21 - Climate action plans have to include measures to redress women disproportionately affected by deforestation and plantation expansion, argues Human Rights researcher Juliana Nnoko-Mewanu.
---
18 Jun 21 - Growing demand for charcoal for cooking in Uganda is causing large scale environmental degradation and threatening public health and the environment.
28 May 21 - A new study suggests the earliest known evidence of organised warfare - the 13,000 years old remains of a massacre in Jebel Sahaba, Egypt - was the result of climate change.
13 May 21 - Kenya aims to set up an emissions trading system that will allow companies and other bodies to buy emissions allowances, the finance minister said on Tuesday, as the country strives to limit the...
7 May 21 - Africaís Great Green Wall, a climate crisis initiative that offers hope for some of the continentís most beleaguered farmers, is back on a steady trajectory after securing $14 billion in new funding...
23 Apr 21 - Africa needs reliable energy infrastructure, not rich-world hypocrisy, argues Vijaya Ramachandran in Nature.
19 Apr 21 - Sustainable energy services provider C-Quest Capital has signed a deal with Shell Eastern Trading to fund the generation of more than 60 million carbon credits using clean cookstoves in Africa.
16 Apr 21 - Cash-short Africa will need "frugal innovation" based on simple, local solutions to deal with serious and growing problems, from climate change to a surging youth population and a lack of jobs,...
7 Apr 21 - Zimbabwean teenager Nkosilathi Nyathi has introduced solar power to his school and his now campaigning globally to fight climate change.
24 Mar 21 - Plans by Total to exploit and export Ugandan oil through a 1443 kilometre pipeline traversing east Africa to the Tanzanian coast are hanging in the balance as investors are under growing pressure to...
18 Nov 20 - Kenya, Ethiopia, Uganda and South Sudan are trying to contain the worst locust invasion in more than 70 years.
29 Jun 20 - PARSOLOI KUPAI'S home, situated on the edge of Ol Kinyei conservancy near the Maasai Mara game reserve, is no different from any other Maasai homestead Ė oval-shaped huts with an almost flat roof and...
2 Mar 20 - Drilling in one of the greatest carbon sinks on the planet could release greenhouse gases equivalent to Japanís annual emissions.
---