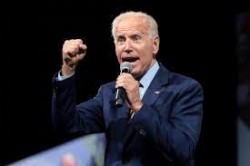 Wednesday - United States President Joe Biden is expected to announce "good news" on addressing a shortfall in a $100bn global climate fund, a UN official said on Monday following a closed-door meeting on the sidelines of the general assembly.

30 Aug 21 - Nothing hits quite so good as a cone full of ice cream on a sweltering summer day. Alas, that single serving of classic vanilla may cool you off, but it has the exact opposite effect on the Earth. The dairy industry accounts for a massive 3.5 percent of the world's carbon dioxide emissions, and the US's 8.8 million cows are a huge source of the planet-warming gas methane.

25 Aug 21 - The United States is preparing to adopt a raft of new energy policies that will for the first time put the US – the world's second-worst polluter after China – on a path to meeting its pledge to cut greenhouse emissions in half by 2035.

23 Aug 21 - During a debate about the Democrats' new infrastructure bill in the Senate chamber on Tuesday night, Sen. Joni Ernst (R-Iowa) took the floor, positioned next to a sign stating "No Cow Tax."

23 Aug 21 - After finding a rusty gas canister near his midwest US home, Rick Karas checked online if it was worth anything. Incredibly, it turned out to be a coveted commodity in the battle against climate change.

20 Aug 21 - A federal judge has reversed the U.S. government's approval of ConocoPhillips' planned $6 billion Willow oil development in Alaska, citing problems with its environmental analysis, according to court documents.
17 Aug 21 - A solar energy provider, XL Fleet, is partnering with eNow to fit a thousand refrigeration trucks with solar panel roofs in a bid to help cut emissions of the power-intensive vehicles.
---
10 Aug 21 - Lawmakers and top climate officials in President Joe Biden's administration sounded the alarm on Monday in response to a new report from the United Nations' Intergovernmental Panel on Climate Change,...
6 Aug 21 - President Biden wants half of cars sold in the US by 2030 to be zero-emission vehicles, the White House says.
5 Aug 21 - Forests in the United States that generate the carbon offsets bought by companies including BP and Microsoft are on fire as summer blazes rage in North America.
3 Aug 21 - Startup Form Energy has finally made public the battery chemistry behind a technology that the company claims could make challenges of integrating renewable energy a thing of the past and outcompete...
29 Jul 21 - Rolling Stone's Dililah Friedler argues that the crises facing the Gulf Coast communities of Louisiana is proof of the need for a Climate Change Corps, like the one being promoted in the US Congress.
26 Jul 21 - American cars are now almost as big as the tanks that won the second world war.
23 Jul 21 - By some estimates, if the 1.2 billion acres of American agricultural land (more than half of the U.S. land base) transitioned towards regenerative farming practices, it could sequester up to 20...
22 Jul 21 - Jeff Bezos got as much morning show coverage in a day as climate change got all last year
21 Jul 21 - In Big Sur, scientists are rescuing the abalone from landslides caused by the Dolan Fire, and moving them to safety in new neighborhoods where "resident abalone" already thrive
20 Jul 21 - Former US Senator Tom Udall, a co-sponsor of the Green New Deal, has been named US Ambassador to New Zealand and Samoa.
16 Jul 21 - US legislators are drawing up plans for a tax on imports from carbon-polluting countries to help pay for a $US3.5 trillion ($4.7 trillion) package in new government spending on everything from...
8 Jul 21 - A "game changing" 20-year effort suggests that even severely depleted marine ecosystems can be brought back to life.
---