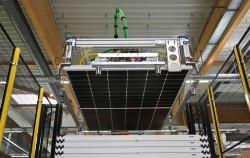 Monday - Rising concerns over energy security and climate change will galvanize record new capacity to generate renewable power in 2022, the International Energy Agency has forecast.

Monday - The number of big polluters setting targets to cut CO2 emissions has reached a "critical mass", a UN-backed report has said.

Friday - Making big promises at the COP26 climate summit in Glasgow was hard; six months later, governments are finding out that actually following through on them is even harder.

Thursday - Right now in India and Pakistan, a record-breaking heatwave is impacting the daily lives of nearly a billion people. Scorching temperatures are damaging wheat harvests, preventing many labourers from working outdoors, and making people vulnerable to serious health issues and even death.

Thursday - The world's biggest fossil fuel firms are quietly planning scores of "carbon bomb" oil and gas projects that would drive the climate past internationally agreed temperature limits with catastrophic global impacts, a Guardian investigation shows.

Thursday - What do you do to decrease your carbon footprint? Believe it or not, that's just the question the fossil fuel industry wants you to ask yourself.

Thursday - Some of the world's largest corporate emitters face the prospect of a shareholder rebellion this month, with climate-related votes poised to spike throughout the proxy season.
---
11 May 22 - The international aviation industry has failed to meet all but one of 50 of its own climate targets in the past two decades, environment campaigners say.
6 May 22 - Even after last year's 13% decline in global coal capacity to a record low, steeper cuts are needed to keep global heating below 1.5°C, finds a new report by Global Energy Monitor. But the effort to...
6 May 22 - So-called 'novel foods' such as insect powder and algae are increasingly being touted for their environmental and health benefits. Now a new study finds that if widely adopted, these 'future foods'...
6 May 22 - Businesses shape how we talk about climate change, and sometimes this can stop us from paying attention to their actions.
5 May 22 - The big heat hit India earlier than usual: temperatures of 44°C in April have almost certainly hammered hopes for a generous wheat harvest in the subcontinent. Even before the month was over,...
2 May 22 - Satellites have detected methane emissions from belching cows at a California feedlot, marking the first time emissions from livestock - a major component of agricultural methane - could be measured...
29 Apr 22 - As greenhouse gas emissions continue to warm the world's oceans, marine biodiversity could be on track to plummet within the next few centuries to levels not seen since the extinction of the...
29 Apr 22 - A new peer-reviewed study published Thursday in the journal Nature found global warming will drive 4,000 viruses to spread between mammals, including potentially between animals and humans, for the...
29 Apr 22 - Organic farming isn't more climate-friendly than conventional agriculture when looking strictly at emissions. In a comparative analysis of the environmental impacts of different agricultural...
28 Apr 22 - The overwhelming majority of global respondents to a recent survey said it is important to them that their countries shift off fossil fuels, but people in emerging economies were "especially...
27 Apr 22 - The number of coal-fired power plants under development around the world fell last year, but far too much coal is still being burned and too many new coal-fired power plants are planned for the world...
27 Apr 22 - New findings published in the Annual Review of Resource Economics suggest a 75% drop in meat consumption is necessary to meet climate targets.
---