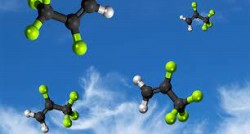 Wednesday - Media Release - As part of moves to reduce the use of harmful greenhouse gases, the Environmental Protection Authority (EPA) has released its third annual decision on special permits to import hydrofluorocarbons (HFCs).

Wednesday - Media Release - The Land Transport (Clean Vehicles) Amendment Bill will help New Zealand drive down transport emissions by cleaning up the light vehicle fleet, Transport Minister Michael Wood says.

Tuesday - Media Release - New Zealand company saveBOARD has received a A$1.74 million grant from the Australian and New South Wales Governments towards setting up a A$5 million facility that will turn packaging waste into high performance building material.

Monday - Media Release - The Motor Industry Association's withdrawal of support for Labour's Clean Vehicle Bill is yet more reason for Transport Minister Michael Wood to ditch his car tax plan, National's Transport spokesperson David Bennett says.

Monday - Media Release - In an online event hosted by Ruud "the Bugman" Kleinpaste, six winners from across the organic sector were recognised for creating exceptional organic products that work for people, planet, wildlife, and the climate.

Friday - Media Release - The announcement that the Marsden refinery is to be closed will increase the barrier to easy achievement of low emissions transport, says the Bioenergy Association.

Friday - Media Release - Parents for Climate Aotearoa (P4CA) with a weary heart welcome the global study into climate anxiety in children and young people. The survey illustrates the depth of anxiety many young people are feeling about climate change.
---
16 Sep 21 - Media Release - Forest & Bird is calling out the Government for backtracking on crucial freshwater reforms and has written a letter to Environment Minister David Parker vowing to fight the changes.
14 Sep 21 - Media Release - More than four in every five (81%) retail investors think climate related information is important to their investment decision making, with half saying companies have a...
13 Sep 21 - Media Release - COVID-19 may have stopped our planned in-person events, but there are loads of fun ways you can still celebrate Organic Week at home.
10 Sep 21 - Media Release - Covid-19 has meant that New Zealanders have had to sacrifice a great deal. They have missed funerals, weddings, births, and all manner of other special moments, National's Climate...
9 Sep 21 - Media Release - Voting members of the International Union for Conservation of Nature (IUCN) World Conservation Congress--a major global gathering on nature that brings together 1,400 members from...
9 Sep 21 - Media Release - Greater Wellington Regional Council has welcomed Tuesday's announcement by Minister of Transport Hon Michael Wood of the Government's transport funding priorities for the next three...
8 Sep 21 - Media Release - The Green Party welcomes the $6 billion being invested in public transport, walking and cycling through the National Land Transport Programme, as announced by the Minister of...
7 Sep 21 - Climate change will "wreak havoc" across the Australian economy if coal is not rapidly phased out, a senior UN official warned on Monday.
6 Sep 21 - Media Release - The world's first Congress to decolonize conservation has ended with a series of speakers calling for an end to "fortress conservation," and for full recognition of Indigenous...
6 Sep 21 - Media Release - COVID-19 lockdowns brought rapid and "unprecedented" improvements in air quality in some parts of the world - but not enough to halt climate change caused by global warming, UN...
27 Aug 21 - A startling 64% of Hamilton's carbon emissions come from transport, and Hamilton City Council has a plan to change that.
25 Aug 21 - Metlink is on track to becoming the lowest carbon emissions network in the country, as a new tranche of 10 electric vehicles (EVs) started rolling out on the road this week.
---