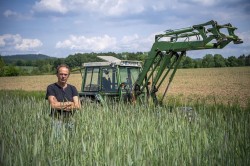 Today 10:30am - A court in Germany cast doubt Friday on claims by a German farmer that automaker Volkswagen is partly responsible for the impact that global warming is having on his family business.

Thursday - Dutch design office polystyrene (https://www.dezeen.com/tag/studio-mom/">Studio MOM has developed a bicycle helmet from biomaterials that, unlike

Wednesday - The EU's greenhouse gas emissions in the last quarter of 2021 were higher than any quarter since late 2018, scrubbing out the apparent gains made during the pandemic.

Wednesday - The European Parliament environment committee on Tuesday (17 May) agreed on reform of the European carbon market — including its expansion to buildings and transport.

17 May 22 - Discounting allegations of speculation on the EU carbon market, Berlin is throwing its weight behind a minimum price of €60 per tonne of CO2, saying it will ensure this through national measures if the EU does not take action.

17 May 22 - In a world first, France's Cie. de Saint-Gobain said it produced carbon-neutral flat glass by using recycled materials and green energy.

13 May 22 - A recent study estimates that green, social and sustainability bond issuance may reach €1.6tn in just four years, but also highlights concerns on standards and the liquidity of the market.
---
13 May 22 - Solar players are now very willing to relocate to Europe again to cater for soaring demand as the continent tries to wean itself off Russian energy imports and meet climate targets, Carsten Körnig,...
12 May 22 - Europe's largest floating solar park will take shape in July this year, in Portugal's Alqueva reservoir.
11 May 22 - There may be no fresh risks of an escalation in the Ukraine war and in the standoff between the EU and Russia regarding its fossil fuels, but recession fears spilled over to the carbon market. The...
11 May 22 - Sweden's H2 Green Steel has pre-sold more than half of its planned initial capacity and aims to close financing for a plant in the north by the end of the year, Chief Executive Officer Henrik...
10 May 22 - For Toku Oshima, a hunter from Greenland, the quest to bring renewable energy to her hometown of Qaanaaq is not just a fight against climate change — it's a fight for cultural survival.
10 May 22 - Germany's transport ministry plans to almost double e-car subsidies to achieve climate targets, but experts and NGOs criticise the plans as hugely expensive and ineffective, reports business daily...
10 May 22 - Norway has been incredibly successful at introducing electric vehicles. In 2021, nearly two-thirds of all new vehicle purchases there were EVs, and combustion sales there are set to end just three...
3 May 22 - By Gregor Thompson | Across Europe, the War in Ukraine is forcing states to reconsider how they source their energy. Some see a rare opportunity to affect meaningful progress on climate change.
3 May 22 - SEVERAL IPCC experts spoke for three hours at the Swiss Federal Palace yesterday. An event prompted by a hunger-striking dad.
3 May 22 - The lawmaker overseeing the adoption of a key package of EU climate legislation in the European Parliament has urged colleagues to stop fighting over the proposed reform, saying Europe must rise to...
2 May 22 - As Germany speeds up investment in renewables, the energy consumption of its automakers reveals just how reliant the country's most important industry is on fossil fuels, a Reuters analysis of...
2 May 22 - Germany says it's making progress on weaning itself off Russian fossil fuels and expects to be fully independent of Russian crude oil imports by late.
---