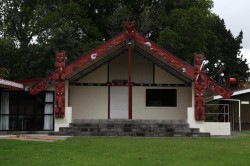 Thursday - Media Release - Two community led climate change adaptation projects have received funds from Toi Moana Bay of Plenty Regional Council this week to explore the future impact on their community and begin planning.

Wednesday - Media Release - Ten thousand wetland plants have now been added to Taupô Swamp, a milestone in restoration work supported by Ngâti Toa Rangatira and Greater Wellington.
Tuesday - Media Release - New Zealand Green Investment Finance (NZGIF) and NZ Post have signed a $20 million financing agreement to accelerate the transition of the NZ Post fleet and its delivery contractors' vehicles, to electric vans (E-Vans) or low emissions vehicles (LEVs).

Tuesday - Media Release - The Bank of New Zealand's (BNZ) Shift Happens Future of agribusiness report reveals a divided primary sector, adapting to the challenges of climate change and regulation, demanding more from rural connectivity, and grappling with COVID-induced …
Monday - Media Release - Transport Minister Michael Wood has welcomed the release of the Coastal Shipping Investment Approach State-of-Play report as an important step towards a more sustainable coastal shipping sector, which will further diversify New Zealand's supply chain.

3 Dec 21 - Media Release - On the one-year anniversary of Jacinda Ardern's Climate Emergency declaration, Greenpeace has positioned a cheeky, four storey high, crowdfunded "climate emergency to-do list" on a wall near Parliament in Wellington.
3 Dec 21 - Media Release - Critics are sounding the alarm that an upcoming meeting of the International Seabed Authority (ISA), the international body that regulates and controls mining activities in the world's ocean that lies beyond national jurisdictions, could push through ocean mining regulations in as little as two years.
---
2 Dec 21 - Media Release - The increasing energy efficiency of appliances sold in New Zealand has saved $38 million over one year and reduced carbon emissions by the equivalent of taking 19,600 cars off the...
1 Dec 21 - Media Release - Coastal sea temperatures around Aotearoa New Zealand have risen well above average, NIWA forecasters say.
1 Dec 21 - Media Release - A Hamilton City Council report has revealed that operational emissions have risen compared to 2020 - a year that saw Covid-19 lockdowns cause a big drop in emissions.
30 Nov 21 - Media Release - New Zealand's first hydrogen-electric truck, Hyundai's XCIENT FCEV, was unveiled last Friday in Mount Wellington by the Transport Minister, Hon Michael Wood.
30 Nov 21 - Media Release - Aotearoa New Zealand's tourism industry is being challenged to lead the fight to reduce carbon emissions, with a major new initiative announced at Tourism Summit Aotearoa yesterday.
30 Nov 21 - Media Release - The NZ Super Fund has once again been named a world leader in a ranking of the responsible investing practices adopted by the world's top sovereign wealth funds and government pension...
29 Nov 21 - The overall emissions budget proposed by the Ministry for the Environment is not nearly ambitious enough,' says Chair of the Wise Response Society, Prof. Liz Slooten. 'The IPCC requirement to keep...
26 Nov 21 - Media Release - Fish & Game NZ is supporting calls for an urgent rethink on the rapid proliferation of exotic forests currently being supported by central government, and instead refocus on native...
26 Nov 21 - Media Release - Timaru's on-demand public transport hits 200,000 ride milestone Innovation has paid off in Timaru as the city's new on-demand public transport service goes from strength to strength.
25 Nov 21 - Two of Auckland's bus shelters have come to life with more than 1000 plants adorning their walls and roofs.
23 Nov 21 - Media Release - We know we must do better by the planet, but when will we start? As Aotearoa's awareness of climate change and its impact increases, Stuff's latest NowNext survey asked Kiwis how that...
22 Nov 21 - Media Release - The decline in fish populations is far worse than previously estimated, according to Minderoo Foundation's Global Fishing Index (GFI) - the largest independent assessment of global...
---