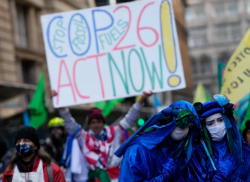 Today 12:00pm - Carbon emissions trading is poised to go global, and billions of dollars — maybe even trillions — could be at stake. That's thanks to last month's U.N. climate summit in Glasgow Scotland, which approved a new international trading system where companies pay for cuts in greenhouse gas emissions somewhere else, rather than doing it themselves.
Monday - Scientist James Hansen is often credited with alerting the world to the dangers of climate change, now he's calling bullshit on much of what's being said on the topic.

Monday - A new study says railroads could save $94 billion over 20 years by reducing air pollution and carbon dioxide emissions — and help avoid health impacts including an estimated 1,000 premature deaths each year — by retrofitting diesel-electric locomotives with battery power.

Monday - The steel industry currently accounts for 7% of greenhouse gas emissions as the world reckons with climate change.

Monday - In the forests of Guatemala, China and Scotland, oil giant Royal Dutch Shell is planting tens of thousands of trees that suck greenhouse gas out of the air, allowing customers who buy its fuel to claim their driving is carbon-neutral — at least on paper.

Monday - Ten years ago, it may have seemed like climate change denial was an ordinary, if not misinformed, opinion shared among loads of people. Nowadays, with climate disasters plaguing most everywhere in the world, it's not so practical to live in denial. As of September 2021, only one in every 10 Americans thinks climate change isn't happening, but around three out of every four believes it is.
Friday - The United Nations Security Council may be about to pass its first-ever resolution on the implications of climate change for peace and security. The council has talked about climate security since 2007, and it has acknowledged that environmental challenges such as droughts and degradation of farming land can fuel conflicts in regions like the Sahel and the Horn of Africa. But it has not laid out a systematic approach to assessing these risks or responding to them.
---
Friday - When forecasting how storms may change in the future, it helps to know something about their past. Judging from historical records dating back to the 1850s, hurricanes in the North Atlantic have...
Friday - By Emily Henderson - While growing up in the '90s in Johnson County, Kansas, in a suburb of Kansas City, I had a friend, Kevin Aaron, who was a dedicated environmentalist.
Thursday - Agrivoltaics researchers are finding that the multiple benefits from pairing solar power and crops production help increase citizen engagement and support.
Thursday - The nation's collective intelligence community identified 11 countries vulnerable to geopolitical instability due to climate change in its first-ever National Intelligence Estimate on Climate Change...
Thursday - A smelting company has poisoned rivers, killed off boreal forest and belched out more sulfur dioxide than active volcanoes. Now it wants to produce more metal for the "green economy."
1 Dec 21 - If we want to tackle the climate crisis, we need to address a global blindspot: the vast underground fungal networks that sequester carbon and sustain much of life on Earth.
1 Dec 21 - Someone's bound to hack the atmosphere to cool the planet. So we urgently need more research on the consequences, says climate scientist Kate Ricke.
1 Dec 21 - A team of researchers from China and the U.S. has found that it should be possible to dramatically reduce deaths due to air pollution over the coming decades if climate mitigation strategies are...
30 Nov 21 - Financial institutions are facing a US$22-trillion time bomb due to their investments in carbon-intensive industries, Bloomberg News reports, citing a study last week by Moody's Investment Services.
30 Nov 21 - The world's largest stewards of capital are struggling to move the needle on companies' carbon footprints and emissions reduction efforts, according to research conducted by EDHEC-Risk Institute.
30 Nov 21 - Ship operators have been urged to switch to cleaner fuels in the Arctic, under a resolution to cut black carbon emissions at the International Maritime Organization (IMO) last week.
30 Nov 21 - Member states are pushing the climate crisis on the trade agenda at the upcoming Ministerial Conference in Geneva. But looking at the World Trade Organization's track record, it could be too late...
---