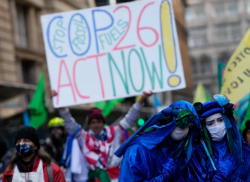 Today 12:00pm - Carbon emissions trading is poised to go global, and billions of dollars — maybe even trillions — could be at stake. That's thanks to last month's U.N. climate summit in Glasgow Scotland, which approved a new international trading system where companies pay for cuts in greenhouse gas emissions somewhere else, rather than doing it themselves.

Today 12:00pm - India has somehow emerged as the villain of last month's United Nations Climate Change Conference (COP26), blamed for resisting cuts to coal consumption even as toxic air envelops its capital, New Delhi. Shashi Tharoor argues that's unfair.
Today 12:00pm - Iowa-based Summit Carbon Solutions, an offshoot of Summit Agriculture Group, is behind the $4.5 billion Midwest Carbon Express project, with the goal of sending 12 millions tons of CO2 annually to western North Dakota, where it can be stored underground. It would be the largest carbon capture project in the world.

Today 12:00pm - On the Friday after Thanksgiving—a day the federal government notoriously reserves for dropping politically inexpedient information—activists were blindsided by a long-anticipated report from the U.S. Department of the Interior. The document was a review of the agency's oil and gas leasing program, which manages fossil fuel extraction on federal public lands and waters.

Today 12:00pm - In July 2018, an Italian-flagged oil supply ship called the Asso Ventotto that was crossing the Mediterranean Sea encountered a stalled rubber raft carrying 101 desperate migrants.

Today 12:00pm - Some will plant a modest fruit tree in their small back garden while those with more space might plump for a sapling that will, hopefully, grow into a mighty oak.

Today 12:00pm - Media Release - The Bank of New Zealand's (BNZ) Shift Happens Future of agribusiness report reveals a divided primary sector, adapting to the challenges of climate change and regulation, demanding more from rural connectivity, and grappling with COVID-induced …
---
Monday - Scientist James Hansen is often credited with alerting the world to the dangers of climate change, now he's calling bullshit on much of what's being said on the topic.
Monday - A new study says railroads could save $94 billion over 20 years by reducing air pollution and carbon dioxide emissions — and help avoid health impacts including an estimated 1,000 premature deaths...
Monday - The steel industry currently accounts for 7% of greenhouse gas emissions as the world reckons with climate change.
Monday - The pay of bank chief executives could be linked to climate change targets in the future, analysts predict, as lenders face growing investor scrutiny over their role in shifting the economy away from...
Monday - In the forests of Guatemala, China and Scotland, oil giant Royal Dutch Shell is planting tens of thousands of trees that suck greenhouse gas out of the air, allowing customers who buy its fuel to...
Monday - Ten years ago, it may have seemed like climate change denial was an ordinary, if not misinformed, opinion shared among loads of people. Nowadays, with climate disasters plaguing most everywhere in...
Friday - The United Nations Security Council may be about to pass its first-ever resolution on the implications of climate change for peace and security. The council has talked about climate security since...
Friday - A Canadian company wants to use compressed air to store energy in California.
Friday - When forecasting how storms may change in the future, it helps to know something about their past. Judging from historical records dating back to the 1850s, hurricanes in the North Atlantic have...
Friday - Sofia and André Oliveira, siblings and teen climate activists, did not expect much from the United Nations climate conference in Glasgow.
Friday - SCOTLAND'S FARMERS have been urged to be cautious of selling off their carbon credits – because they may be needed to offset their own emissions in the future
Friday - By Emily Henderson - While growing up in the '90s in Johnson County, Kansas, in a suburb of Kansas City, I had a friend, Kevin Aaron, who was a dedicated environmentalist.
---