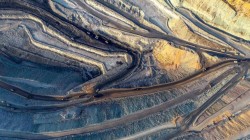 Thursday - A UN report says governments are currently planning to extract more than double the amount of fossil fuels by 2030 required to keep the 1.5C threshold alive.

Thursday - Fossil-fuel subsidies are one of the biggest financial barriers hampering the world's shift to renewable energy sources. Each year, governments around the world pour around half a trillion dollars into artificially lowering the price of fossil fuels — more than triple what renewables receive.

Thursday - EUROPEANS want urgent action on climate change but remain committed meat-eaters and question policy proposals such as banning the sale of new petrol vehicles after 2030, according to a new poll from the YouGov-Cambridge Centre for Public Opinion Research that surveyed environmental attitudes in seven European countries, including the UK.

Thursday - Australia-based mining giant Rio Tinto has announced plans to cut direct carbon emissions 50 percent by 2030, ramping up previous targets as the firm tries to green its highly polluting operations.

Thursday - Twelve years ago, at a United Nations climate summit in Copenhagen, rich nations made a significant pledge. They promised to channel US$100 billion a year to less wealthy nations by 2020, to help them adapt to climate change and mitigate further rises in temperature.

Thursday - US carbon exchanges will easily hit record volumes this year, in part because of recent record highs but also due to new entrants into the market.

Wednesday - The director general of the World Trade Organisation has said that it should work together with other international bodies to develop a global price for carbon.
---
Wednesday - For its proponents, a global carbon market could significantly reduce the world's carbon emissions. But its critics say that giving polluters the option to pay for their emissions is not the answer...
Wednesday - More than 99.9% of peer-reviewed scientific papers agree that climate change is mainly caused by humans, according to a new survey of 88,125 climate-related studies.
Wednesday - Scientists with the world's top climate organization made reducing meat consumption an official policy recommendation in 2019, echoing what environmentalists had urged for years: Eating less meat, in...
Wednesday - Neon yellows, soothing blues, and revitalizing greens: the average supermarket aisle is a riotous, colorful battle for a customer's attention, according to Dr. Brian Cook, a senior researcher at the...
Wednesday - For three months last summer, residents in one Seattle neighborhood received their packages via electric cargo bike rather than a delivery van, as part of a pilot program testing new innovations to...
Wednesday - Media Release - Dr Franck Natali, Associate Professor at Te Herenga Waka—Victoria University of Wellington and Wellington UniVentures' Innovator-in-Residence, has been accepted on to the inaugural...
Tuesday - The cost of inaction over climate change could lead to the loss of 3 per cent of gross domestic product every year by 2030, ballooning to $69 trillion by the end of this century, Bank of America said...
Tuesday - South Korea set a new goal on Monday for fighting climate change over the next decade, saying it will aim to cut its greenhouse gas emissions to 40% below 2018 levels by 2030.
Tuesday - A US Democrat's decision to oppose a key policy in Joe Biden's climate plan could lead to a carbon tax on emissions-intensive industries and threaten Australian exports.
Tuesday - Children across the world have inherited a problem that is not of their making. A new report from Save the Children - Born into The Climate Crisis: Why we must act now to secure children's rights -...
Tuesday - Companies and people who want to cancel out the impact of their emissions on the climate often turn to something called carbon offsetting.
Tuesday - Fans of Heady Topper, one of Vermont's first popular craft beers, can now consume the brewery's carbon emissions.
---